Epic Poem Turned Musical: Aeneid the Musical
Five seniors turn their thesis into something different
"We are hoping to write a musical! And then cast it, produce it, and direct it!"

These words came from two young men who had recently delivered their junior thesis and were looking ahead to their senior year with big plans. Fully aware this task would be an "epic" undertaking, the students pitched their idea to create a musical adapted from Virgil's Aeneid, the legendary story of Aeneas, a Trojan who fled the fall of Troy and traveled to Italy, where he became the ancestor of the Romans. They proposed their efforts be used for the '23 WCA spring musical and also their senior thesis.
It was an ambitious idea to say the least. Their teachers and parents pondered whether they would be able to finish such a race. Would their aspirations fizzle out as time passed? Would these students navigate a group project the likes of which they had not yet heretofore undertaken? Further, how might a group of high school students depict the national myth of Rome? Could teens generate something worthy of such a classic epic? After some discussion, much prayer, and soliciting and gaining commitment from three additional classmates, thus growing the leadership team from two to five, the students' big idea developed into a plan and they were given the go ahead from school leadership.
They wasted no time! In June of '22 they enlisted a small group of additional friends, composed of both recent WCA graduates and current underclassmen, to help develop and draft a script. Group meetings took place throughout the summer. They shared ideas and fleshed out what important elements from this historic piece of literature needed to be included in their musical to tell a coherent and compelling story. Concurrently, the core group of five composed lyrics to original scores composed by Casey Calderhead, one of the two initial seniors.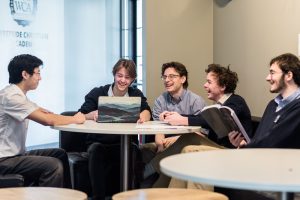 By summer's end, much had been achieved, and the project was taking shape, yet teachers and parents questioned if this group of young men would continue to stay the task as each had an aggressive senior year schedule ahead of them. To their credit, they resisted buying into the doubts and pressed on. During their daily senior thesis class the core group of five visionaries further edited, cast, and produced what is now officially called Aeneid the Musical. Following the musical's performances they will give individual senior thesis presentations about various aspects of the creation, production, and performance of their creation. They will be prepared to expertly discuss and defend their thesis to a panel, who will have watched the live performance.
The completed two-hour production featured 32 scenes, over 30 students in grades 6-12, and 8 fully orchestrated original music, including original lyrics, sung in solos and ensembles. "Orchestrated," in the music world, means to take a composition and arrange it for the instruments in the orchestra such as strings, brass, woodwind, and percussion instruments. Composing an original song is a feat in itself, but for Calderhead to have enough mature talent at the ripe age of 17 to orchestrate with excellence and creativity, notate what is to be sung properly, mix the tracks and balance the instrumentation with finesse, then record and produce these 8 original tracks to accompany live vocalists, is operating at a level far beyond his years and sets the musical apart. The talented writing team, beautifully crafted lyrics to these original songs to further develop the plot and the characters. Again, not an easy task to do.
Aside from the story, which follows the original literature, everything about the musical is original. The script is original. The music is original. The lyrics are original. Costumes were procured or made.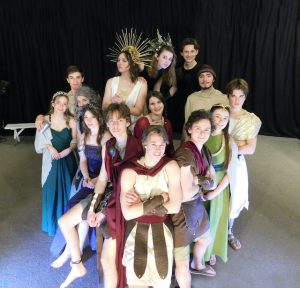 Each student contributor agree watching the concept grow into a full, finished product has been an amazing experience. Onlookers who have watched this dynamic group of young men create with joy and work so effortlessly together have been blessed. In Book 5 of The Aeneid, Cloanthus' and Mnestheus' ships race at the funeral games of Anchises, and with the finish line in sight, Virgil writes: "They can because they think they can." These students could, and they did.
-Kristen Zuccola is the Rhetoric Department Chair and Thesis Teacher at Westside Christian Academy in Westlake, Ohio
Aeneid The Musical debuted on March 16th and ran for 3 nights to packed crowds!  See the trailer at https://www.westsideacademy.org/drama/