Good Morning America |

Scoring Matrix & Team Roster |

Battle Cry |

Competition Timeline
Mock trial is a good fit for classically trained students as it combines knowledge, logic, and rhetoric, the very framework of classical education. — Jason Whatley
Being educated in a classical school was more helpful to Mock Trial than I thought it would be. We are often put on the spot to share our thoughts or have discussions within the classroom. We also read great books that cause your mind to think on very complex topics. These things helped with Mock Trial immensely because we were able to take the case problem and really dig into the underlying details, prepare well-thought-out speeches and questions, and be quick to answer unexpected questions or objections. — Rebekah Epley, Junior
---
For those of you who don't know, mock trial is hard. Participants often report that the relationships they build during mock trial are amongst their strongest. I believe this is because of the fact that psychologically intense survival situations create the strongest bonds. (See the Agathos Battle Cry.)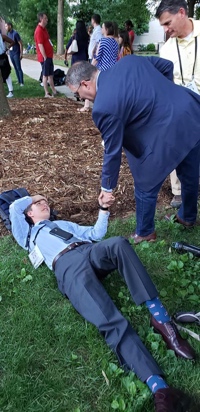 Lest you think I exaggerate, this picture is worth a thousand words. As the wife of a mock trial coach who has been to nationals on a couple occasions, I can attest to the 2:00 a.m. opening statement rewrites, the shared Google drive folders containing hundreds of pages, and the multiple weekend practices while the rest of their classmates are at the movies.
And then there are the competitions. Long hours. Grueling, think-on-your-feet trials, innocently called "rounds." Real judges in real courtrooms. High heels and suits. After a single round, I am exhausted. All of us parents shuffle out, expressions glazed, murmuring, "How do they do it?"
And they love it.
Nationals
National Mock Trial is the ultimate competition in poise, wit, and preparation. Gathered in picturesque state capitol buildings and courtrooms is a sea of well-dressed teenagers. This view alone is worth watching live (which cost $40 per ticket this year).
According to Agathos coach Jason Whatley:
Mock trial allows students to try cases, acting as attorneys and witnesses, with real judges and attorney jurors, and real law and rules of evidence and procedure. The model is so similar to that seen in actual trials that the skills of top high school mock trial attorneys are consistently compared to real-world, experienced trial attorneys. It is highly competitive, earning the description by my law partner, Cory Ricci, as "the highest level of intellectual combat."
It's estimated that over 30,000 students compete each year at the regional and state levels to make it to nationals. The rounds are hours long and back-to-back, single elimination, until the final two meet on the final day at around 7:00 p.m. after what could reasonably be called a tough day.
This is where Agathos Classical School found themselves on May 18, 2019.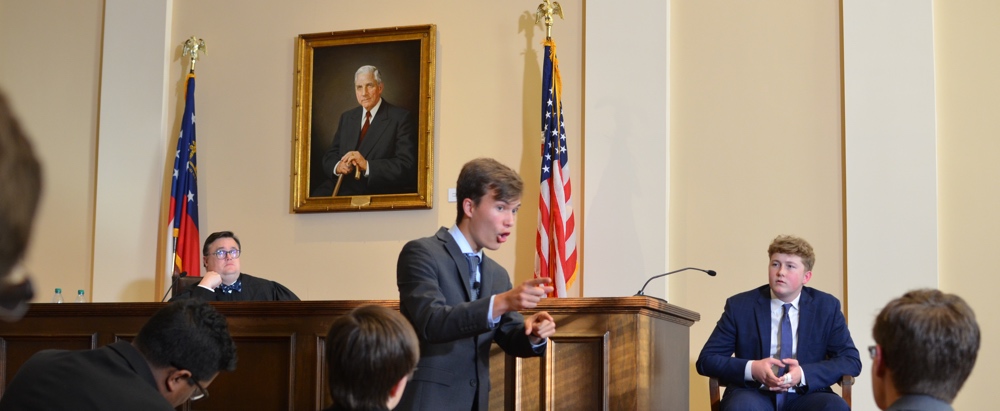 Agathos
And this is where coach Jason Whatley found himself with his head bowed and his hands covering his ears, overcome with nerves. Every time a round starts, he turns from coach to parent, handing over to the judges students who have become like his own children. In fact, Coach Whatley admitted to us a little known fact—he had never watched an entire round. He sits outside, getting discreet texts from his fellow coach and law partner, Cory Ricci, and they discuss the round once it's finished.
His "kids" made him promise—if they made it to the final round at nationals, he had to watch the round. "Sure," he said. There were many reasons he didn't cross his fingers when he made that promise.
First, it was nearly impossible. Agathos Classical School began their program four years ago in the fall of 2015 with only 18 students in the entire rhetoric school. They had to find at least six students who could do mock trial. Five were freshmen, in a sport that relies heavily on fielding experienced upperclassmen. According to Whatley, "None of these students had ever heard of mock trial and knew little or nothing of courtroom procedure, rules of evidence, or the law." Many of the competing schools were larger, some by literally hundreds of times. In 2018, when they won the Tennessee state championship and then placed third at nationals in Reno, they thought they had reached the pinnacle.
Secondly, they were without their student leader. Their young team had grown with the talent and enthusiasm of their former captain, Luke Worsham, who graduated the previous year and who had won numerous awards at the state and national level.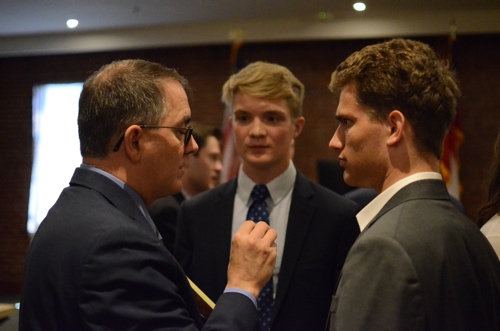 Thirdly, they felt woefully underprepared. Before the competition, they were invited to scrimmage Nebraska and Michigan, two pillars in high school mock trial. Nebraska had won nationals a few years before. Even given the talent of these teams, according to Whatley, everyone came away from that exhausting day with one belief: "We are not ready." They would be lucky to place at all.
That night was overwhelming. Assignments were given to fix and change things that should have been set in stone weeks ago. Many parts had not been rehearsed. Tensions increased.
Student Fern Greene recalls, "I felt exceedingly unprepared. Many members of my team were experiencing the same strain. I didn't feel like I knew my statement well enough. I discovered there were holes in my understanding of the case itself. I almost had a breakdown." One counsel rewrote a major cross examination. Another counsel—it was discovered—had committed a mock trial unthinkable by not memorizing the opening statements. Another attorney had to "go rogue" during the scrimmages, completely disregarding the prepared materials after realizing they were not working. After a "very flat" performance by a lead witness in the scrimmages—who claimed she could only act while speaking in a British accent—the team decided unanimously that she should keep the accent. Unfortunately, her character was supposed to be a native of Georgia—anything but a person with a British accent. They would hope for the best.
Another snag occurred the morning before competition began. "Dressing the part" is understood at the national level. Even without that, according to Whatley, "We believe in suits. We might get beat, but we're going to look good doing it." So, when he heard the words, "[A student] forgot his pants," it was more than a passing observation. The borrowed pair of trousers didn't go with his tailored suit coat. Or the cool tie. Without the tie, the shirt had to be unbuttoned. So their expert witness became one of a select group of underdressed students. Could you win a national title in khakis?
To add to their feelings of unpreparedness, the announcement of the final two teams brought them face-to- face with Nebraska, the team they had scrimmaged two days before and who had "handed them their hats." The Agathos team immediately sprinted back toward the previous courtrooms downtown. They had 30 minutes to eat, prepare their materials, and compose themselves for the national championship.
It was about 10 minutes later when they discovered that they did not have to go downtown, but only to the doors that were right beside them when the final teams were announced. A team that was hungry, tired, and literally dripping sweat entered the championship courtroom, confronted with lights, cameras, and microphones. They should have just followed Nebraska, who looked decidedly more cool. After a hasty meal and frantic preparations, a conference call with Coach Ricci convened (he was back home with his wife and brand new baby) wherein two witnesses decided that if they were to have a shot, they needed to change some of the attorneys' questions and their witness answers. They needed a rewrite. So, minutes before the round began, the attorneys heard the new plan. There were three long seconds of silence. Then, "Let's do this."
It was then that Coach Whatley saw a dejected witness, Fern, crossing the well. She was concerned about one of their attorneys, Ella. Ella had never wanted to be an attorney, so for luck her best friend, Fern, had given her a lucky coin. It had been in the shoe of Ella's prosthetic leg for every single round throughout their years of success, and it was, for the first time ever, missing. They searched frantically. The team was uneasy. Coach Whatley suddenly remembered, there was a coin under the table in the well of the courtroom, an unlikely location. It was the lucky coin.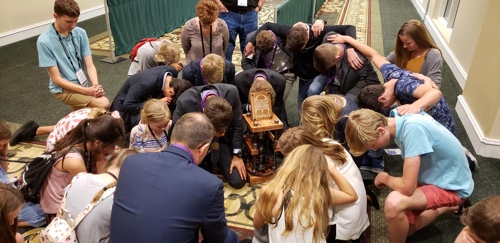 Out of time, Whatley asked for a moment with his team. Their other, most important tradition, was to pray before each round. They were given 60 seconds. It was at this moment that Whatley began to feel the pressure of his promise acutely. There was simply no way he could expect more of his team, lucky coin notwithstanding. Most likely, Nebraska did not just rewrite their case. One of his student attorneys noticed the coach's anxiety, and said, "Mr. Whatley, we've got this. Go sit down."
The Final Round
Senior attorney Ella Seago described the final round:
At every point between the rounds I felt utterly inadequate for the task at hand. I suffered from dehydration, stress, and fatigue. It's the same way every year, every competition, and I always worry that I won't be able to stand the pressure again. Yet the moment court was called to order in the final round, I was no longer just Ella on a team of young high schoolers from a tiny classical school in a small town—I had become Ms. Seago from the seasoned team that was the state champion of Tennessee two years in a row. I felt righteous indignation when our client was accused, and genuine joy when we won an objection. Every prayer, every hour of study and moment of panic had led to that one trial. And in those moments, when I had expected the most extreme duress, I was somehow at peace. We did our best and that was all we could do. I thank the Lord that it was enough.
Ultimately, what won the day, according to Whatley, were two things. These are classically trained kids, who are "used to filling their minds with all sorts of information." And these kids have character. They are "resilient and humble, and they genuinely love each other." They work hard, with- out panicking. In the end, the story is about personal sacrifice and teamwork. Not a single team member earned an individual award. "These kids were trained in more than logical thinking. They were trained in community. Absent classical education, they couldn't have done it."
What kept Whatley in the courtroom, he believes, was prayer. When he began to think there was no way he could make it through the round, he suddenly felt an inexplicable calm. Later he discovered, this was the same moment when a mom noticed his extreme nervousness, and began to pray for peace. By God's grace, he got to watch a good round.
Agathos Classical Wins
After the championship round, the two teams were bussed back to the awards venue and ushered to the front to the tune of the Superman theme. According to Fern:
There are not words to describe what I felt when they announced Nebraska as number two. Everything around me seemed to fade. Our work had paid off. We reached our goal. It was a good moment, in the full classical definition of the word—an "agathos" kind of good—and I was filled with such pride in my team, and thankfulness to God for giving us the opportunity.
Looking Back
According to Whatley and Ricci, who are law partners as well as coaches:
By normal standards, Agathos should have never been able to compete. … Coaching classical students was like fine-tuning a well-oiled, beautifully engineered machine. We were starting with something quality, something good, something that was fully prepared for the great challenges we would throw at them.
Shortly before the national tournament, in the face of an upcoming scrimmage against a highly skilled attorney, I reluctantly asked the kids whether they could handle making last-minute changes to their case in light of what they would learn. One of the students looked at me, smiled, and responded, "Mr. Whatley, we're classical students. We can handle it." The student's declaration proved true time and time again.

---
The Agathos Battle Cry
In 2019, Agathos fielded two teams at the regional and state levels, Teams Gondor and Rohan. The names, taken from J.R.R. Tolkien's Lord of the Rings trilogy, refer to the two good kingdoms of Middle Earth, united in their strength to defend each other as they fight for survival. Throughout the 2018-2019 season, the analogy guided the two teams and aptly described the love and friendship among the team members. Although at the end only one team could win the state competition and fight for nationals, the teams remained unified until the national competition finally came to a close and victory had been won. The 2019 team shirts, an annual creative tradition, contained the crest of Gondor and Rohan on each sleeve, with the following battle cry by Tolkien's Aragorn on the back:
Hold your ground! Hold your ground!
Sons and Daughters of Gondor, of Rohan, my brothers and sisters,
I see in your eyes the same fear that would take the heart of me.
A day may come when the courage of students fails,
when we forsake our friends
and break all bonds of fellowship,
but it is not this day.
An hour of wolves and shattered shields,
when the age of Agathos comes crashing down,
but it is not this day!
This day we fight!
By all that you hold dear on this good Earth,
I bid you stand, Men and Women of Agathos!
— Aragorn, at the Black Gate before the final battle
For Agathos students, all of whom are very familiar with the LOTR story, their four-year path to national victory was very much like the journey of Frodo and Sam and the Fellowship of the Ring, as these friends struggled to achieve what most considered the impossible.
The Agathos Mock Trial Team has the same motto as the school itself, Soli Deo Gloria ("Glory to God Alone"). The team dedicates itself this this proposition, although students have informally declared a secondary program motto to be, "Mock Trial Above All," a loving and tongue-in-check reminder of the significant dedication and sacrifices team members have made and continue to make to achieve national success, recognition, and honor for themselves and their school.
In 2015, one of the very first acts of the Agathos Mock Trial team was to corporately pray that its efforts and achievements would be to God's glory. That simple act of seeking divine guidance followed the team through each tournament and trial, year after year, with regular moments of group prayer to seek strength and bravery for the battle ahead. So engrained was the tradition of praying before trials that at the 2019 state tournament Team Gondor found itself in a panic when their two coaches were both attending to Team Rohan in the minutes before the start of a trial. At the last moment, a coach was found, a prayer offered, and the team went on to win the tournament. True to form, senior and founding member Josiah Burns, immediately after exiting the national stage in 2019 and with tears of joy still falling, rallied his teammates to take a knee and pray as a team — one last time — an exclamation point on what has defined these special students for four years.
The impact of this program on the school has not been limited to its mock trial students. In a school with just over 200 students from Pre-Kindergarten through 12th grade, having a nationally competitive team has been felt by virtually every student, both the elation of high achievement and the hard work of having to balance the demands of school, mock trial, and other activities. As an example, due to qualifying for the national competition, Headmaster Ted Trainor has had to move the school's graduation the past two years in order to accommodate seniors who were competing out-of-state. But the effort has been worth it. Every year, when the team leaves for its state competition, the school turns out en masse, literally all grades, cheering on the lawyers, witnesses, time keepers, coaches, and advisors as the team boards and heads for the next competition. Upon their return from winning the national title in Athens, an estimated 100 students, parents, administrators, and friends turned out to welcome their Agathos Warriors home.
The team's foundational verse is Micah 6:8: "O man, what is good; and what doth the LORD require of thee, but to do justly, and to love mercy, and to walk humbly with thy God?"
Soli Deo Gloria.
---
Scoring Matrix and Team Roster
View the 2019 National Level Mock Trial Scoring Matrix (PDF)
The 2018-2019 Agathos Mock Trial team members are as follows:
"Team Gondor" (1st Place, Regionals; 1st Place, State; 1st Place, Nationals):
Josiah Burns, Attorney (Senior),
Ella Seago, Attorney (Junior),
Samuel Whatley, Attorney (Senior)
Asher Black, Witness (Junior),
Luke Epley, Witness (Senior),
Rebekah Epley, Witness (Sophomore),
Fern Greene, Witness (Senior),
Levi Pettit, Time Keeper (Junior), and
Ethan Voyles, Second Time Keeper (Sophomore)
---
Agathos Competition Timeline
A review of the accomplishments of Agathos over its four years shows how meteoric the rise of the program has been:
2015-2016:
* First Place, District 11 Regional Tournament, Franklin;
Best Witness, Luke Epley;
Best Advocate, Luke Worsham;
* Sixth Place, Tennessee High School Mock Trial Competition, Nashville; and
Best Plaintiff Advocate, Runner-Up, Luke Worsham.
2016-2017:
Runner-Up, District 11 Regional Tournament, Franklin;
Best Witness, Luke Epley;
Best Advocate, Luke Worsham;
Fifth Place, Tennessee High School Mock Trial Competition, Nashville; and
Robert Horton Campbell Award for Best Prosecution Advocate, Luke Worsham.
2017-2018:
First Place, District 11 Regional Tournament, Franklin;
Best Advocate, Luke Worsham;
Best Advocate, Ella Seago;
First Place, Tennessee High School Mock Trial Competition, Nashville;
Best Witness, Samuel Whatley
Robert Horton Campbell Award for Best Plaintiff Advocate, Luke Worsham;
Third Place, National High School Mock Trial Competition, Reno, Nevada; and
Top 10 Advocate, Luke Worsham.
2018-2019:
First Place, District 11 Regional Tournament, ("Team Gondor") Franklin;
Runner-Up, District 11 Regional Tournament, ("Team Rohan") Franklin;
Best Witness, Fern Greene;
First Place, Tennessee High School Mock Trial Competition ("Team Gondor"), Nashville;
Robert Horton Campbell Award for Best Prosecution Advocate, Ella Clair Johns; and
First Place, National High School Mock Trial Competition, Athens, Georgia.
---