by Jeanette Faulkner   |   Spring 2017
The Only Thing Missing
for the First Day of School
Was the Building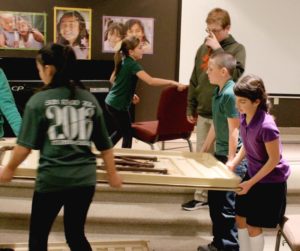 When most parents finish the final page of The Case for Classical Christian Education, visions of ivy-covered brick buildings captivate their imaginations. From a first floor window emanates a child's voice translating Caesar's Gallic Wars; and from above rings an angelic choir's medieval hymn filling the air over a robust lacrosse team practice on a sunny field.
However, their first visit to the local classical Christian school is often a different reality. They may find a converted shopping center, a former roller rink, or a church with no recognizable evidence of a school inside. The parents who don't immediately put the car in reverse see a school with an eternal mission though few resources. For many ACCS schools, this is the story of their first years … or first decades.
Franklin Classical School in Tennessee began in 1992 as a homeschool program taught by Dr. George Grant. For twelve years they leased space in a local church and grew into a K–12 school that also offered umbrella services for homeschool families. However, both the school and the church were outgrowing the build- ing, so it was time to find a larger facility. In the spring of 2015, FCS found a larger church which offered the school their own floor. The principal, Jeff Dokkestul, started meeting with architects, fire marshals and zoning officials. Everything was set for a fall opening when Dokkestul left for vacation in June of 2015.
On a Minnesota lake, in the middle of his family reunion, Dokkestul received an urgent call. The new church merged with another large church and FCS lost its lease. That afternoon, he was on a plane back to Franklin. After contacting 40 churches and with only weeks until the start of school, the school remained homeless. "It's a challenge to get the church to see that these schools are discipleship," explained Dokkestul.
One afternoon, he providentially ran into a friend who pastored a small church and he laid his case before him. That church welcomed the school on a short-term basis. Once again, Dokkestul was working with architects and fire marshals. "What was remarkable was that we did not lose one family or one faculty member, even up until the night before the start of school when we still did not have approval from the city," Dokkestul recalls. In fact, the FCS community was unwavering in prayer and support.
The day of their back-to-school parent meeting, he still did not know whether to tell everyone to come the next day or keep the children at home. At 4:50 p.m., he got the call that the move-in was approved by the city, but only until December. Although grateful and relieved, being in a smaller space meant everything must be boxed up on Fridays and unboxed on Mondays. Teachers had to haul their things home and back every day.
In December, FCS finalized an agreement with an education building in down- town Franklin that would lease two floors for three years, and … everything was already up to code! Today, they are in their second year in their new home, and they have a story to tell.
However, once again Dokkestul is meeting with planners and architects and fire marshals. But this time it's from the other side—FCS is set to build their own school within the next three years on their own land, just outside of downtown Franklin.
The FCS story, while perhaps a bit more dramatic, is common to many schools that started in humble abodes, yet through faith and perseverance stayed the course long enough to see their alum return as faculty in their own buildings. Dokkestul explained a more enduring lesson, "Our students will graduate and move on, but they will always remember what happened here and how God provides."
When asked why no one left the school in midst of uncertainty, he said, "We have a long history of mentoring our families. We believe in parent educators. Our community is steeped in relationship and discipleship." Clearly once a family experiences this, where else is there to go?
---
JEANETTE FAULKNER is a former print and broadcast journalist who currently teaches logic, Latin and humanities at Grace Classical Christian Academy in Granbury, TX.