Employers Don't Need Data to Know: A Good Employee Is Hard to Find
BUT THE DATA DOES BACK THEM UP.
Here is a compilation of various sources discussing today's educational needs and shortcomings.
Google Study Results
In a previous article entitled "Google 'Good Employees'," we mentioned Google's "Project Oxygen" which concluded that the following are the most important qualities of top employees:
• Being a good coach
• Communicating and listening well
• Possessing insights into others (including others' different values and points of view)
• Having empathy toward and being supportive of one's colleagues
• Being a good critical thinker and problem solver
• Being able to make connections across complex ideas
Forbes, Harvard, and even the NEA are acknowledging that something is missing from the prevailing educational framework.
Google Study Overviews
The Washington Post (2017) stated, "Project Oxygen shocked everyone by concluding that, among the most important qualities of Google's top employees, STEM expertise comes in dead last. The top characteristics of success at Google are all soft skills." These are the skills listed above.
It went on to say, "… No student should be prevented from majoring in an area they love based on a false idea of what they need to succeed. Broad learning skills are the key to long-term, satisfying, productive careers. What helps you thrive in a changing world isn't rocket science."
Washington Post: Read more about the Google study.
Michigan Future: Read more about the Google study.
The Liberal Arts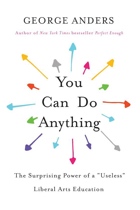 You Can Do Anything: The Surprising Power of a "Useless" Liberal Arts Education by George Anders. Released early in 2019, this book offers food for thought about what to do with a college education.
This book was preceded by his popular article in Forbes entitled, "That 'Useless' Liberal Arts Degree Has Become Tech's Hottest Ticket."
See The Classical Difference article, "Lean Out or Lean In."
NEA and the "Four Cs"
The NEA's "An Educators Guide to the 'Four Cs' " says, "Using the 'Four Cs' to engage students is imperative. As educators prepare students for this new global society, teaching the core content subjects—math, social studies, the arts— must be enhanced by incorporating critical thinking, communication, collaboration, and creativity."
http://www.nea.org/assets/docs/A-Guide-to-Four-Cs.pdf
The question is, can the "4 Cs" be internalized and applied to real life when all that is truly meaningful–the idea of Truth itself–is dismissed? As soon as today's youth encounter difficulty, they often steer clear, and if they encounter the ultimate evil–someone who disagrees with them–their best intentions lack a firm foundation and often fall to the wayside. What kind of educational framework can or cannot lay a firm foundation for critical thinking, communication, collaboration, and creativity?
John Taylor Gatto: Advice from Harvard: 10 Skills for Success in the Global Economy
John Taylor Gatto was named New York State Teacher of the Year. After resigning, he became a well-known secular activist against compulsory education.
A few years back, the School of Government at Harvard issued advice to those planning a career in the global economy of the future; it said that school credentials would be devalued compared to real world skills acquired by experience; it identified 10 qualities to acquire to meet the changing standards, none of which are usually found stressed by public schooling:
1. Ability to define problems without a guide.
2. Ability to ask questions that challenge common assumptions.
3. Ability to work without guidance.
4. Ability to work absolutely alone.
5. Ability to persuade others that yours is the right course.
6. Ability to debate issues and techniques in public.
7. Ability to re-organize information into new patterns.
8. Ability to discard irrelevant information.
9. Ability to think dialectically.
10.Ability to think inductively, deductively, and heuristically.
… stimulating intellectual challenges is part of the time-honored formula of classical education–repudiated by institutional forced compulsion schooling that seeks a different end-result. … How could schools even function if children were encouraged to challenge prevailing assumptions? If you want your kids to follow Harvard's advice, you'll have to arrange a work plan by yourself. …
Read more here: http://www.educationrevolution.org/store/john-taylor-gatto-advice-from-harvard-10-skills-for-success-in-the-global-economy/