Summer 2018
Featured drawing: Madison Gohlke, Annapolis Christian Academy, Corpus Christi, TX
The first indication of trouble was the burglar alarm. Earlier, Leslie Collins, Head of School at Covenant Academy, had received a text indicating a power surge.
During a hurricane the magnitude of Harvey, this is to be expected. A burglar alarm is not. The texts kept coming, indicating movement in room after room. That's when she knew, "Harvey had crept into our classrooms and was destroying our building inch by inch."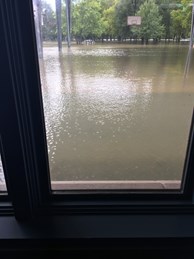 As soon as the unprecedented rain pouring over Houston slowed, a board member picked Collins up in his truck to assess the damage. The school's courtyard, usually filled with green grass and joyful students, was filled with water to the edge of the concrete. They sloshed through each room in shock and arrived at the front hall to find that several families had already come to check on their beloved school. "What should we do now?" they asked.
In any Christian community, our response to tragedy—death, loss, damage, or fear—is as a people set apart. In that moment, Collins was reminded that in Christ we are victors. "The whole city was in crisis. I was cognizant of the fact that we were going to get through this together and it was going to be different. God's providence gave us this circumstance. We would live IN this moment, not hurry up and get over it. We were going to lean into it, not away from it."
Harvey entered as a burglar and left us with a stronger and better community.
—LESLIE COLLINS
Head of School, Covenant Academy, Houston, TX
Demolition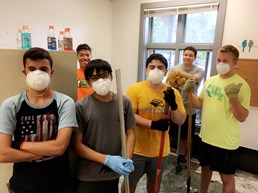 Up to this point, Covenant had been in session for two days, Thursday and Friday, with Friday hosting House inductions. What would they do come Monday? They would learn something new—building demolition.
Several weeks prior, Leslie had completed Incident Command System training through FEMA, and had required similar training of all faculty. The training outlined expectations for how to respond to possible school disasters. The moment the first group came together immediately following the hurricane, a chalkboard was cleared and became command central. Objectives written. Teams created. Duties assigned. Collins used almost everything she had learned. They got to work.
They worked 9 am–7 pm every day for five days to clear the building. Hundreds of people came to help from all over the state and country, many of them unknown. "I don't even know how people knew about us. God would lead them to our website, or they would hear through connections. People came to be the hands and feet of Jesus. They were assigned teams immediately and given clear objectives. We were even able to send some people off campus to help our families whose homes had been damaged."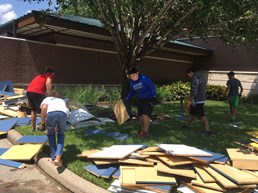 The kids were active participants in the demo. According to Collins, "The only reason we got it demoed in five days is because kids were involved. They were tearing up, organizing trash piles, sweating, dripping, exhausted. Many of these kids understood for the first time in their lives what it was to have this type of hardship and move on."
Once everything was demolished, the drying began. It was a logistical feat to position fans, hook them up, check circulation, "focus on the beams," and sanitize everything. Processes were developed for an additional new skill set no one ever wanted—flood mitigation.
Continuing Education
Their school building had weeks of drying and refinishing ahead. While others halted classes, Covenant continued learning.
Through family connections they found a temporary home at, appropriately, the Alamo. This reproduction was located a close one mile north of the school building, and became the backdrop for their theme of "leaning in." Leslie shared her initial vision with her students.
"When people say, "Remember the Alamo" they mean, "Don't let that happen again." We need a different mindset—lean in and move on. God's providence has given us this circumstance. We will live IN this moment, not hurry up and get over it. We will relish the opportunity we have to build community. This won't define us. We are victors, not victims. We need to be intentional about this.
A Good Story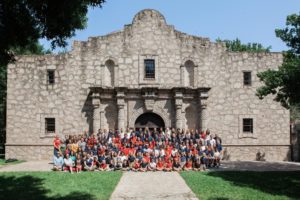 CCE believes deeply that literature makes us more human. Collins wanted to provide stories the kids could use to bring healing and perspective to their situation. "The process of experiencing literature together can offer great wisdom and help. We can connect with people who lived in the past and whose lives were often more difficult."
The House system made this time much easier. Each House was subdivided into upper and grammar school age groups, as they read books that reflected a response to a struggle. Booker T. Washington's Up from Slavery was read by the upper school. They selected this book because he refused to be a victim as he worked to rebuild the south.
In the grammar school, they read The Lion, the Witch, and the Wardrobe because of the themes of loss and courage, displacement and rebuilding. Although the wartime aspect of these stories is not what most people remember, the Covenant students related to these ideas.
According to Collins, the literature was not only helpful at the time, but provided a way back to these issues throughout the year. When they returned to campus, "rhetoric students would refer to Booker T. Washington and doing hard things in their chapel talks."
Art instruction was focused on providing opportunities for students to process what they saw and illustrate the Scripture that was sung, read, and recited. Students told their Harvey story and reflected on God's faithfulness in the storm.
Liturgy
Liturgy and chants are both aspects of CCE that became even more important in the midst of uncertainty. Collins distinctly remembers thinking about the importance of ordering their days. "Our liturgy was full-orbed. We incorporated all the senses in bringing about restoration. In fact, I would say the only sense we did not incorporate was smell."
Covenant's music director selected "How Firm a Foundation" to be the "Hymn of the Month" and they sang all verses together at the beginning of each day. This was followed by a short, theme-based talk.
Next came the "Character Call-out" written by Collins for their unique situation. Their theme—lean into hard things—became the backdrop to every discussion that would follow as part of literature or history during the remainder of the day. Socratic discussions—another foundational component of CCEbecame more meaningful.
Various Scriptures were read daily, always beginning with Isaiah 43:2"When you pass through the waters, I will be with you; and through the rivers, they shall not overwhelm you; when you walk through fire you shall not be burned, and the flame shall not consume you." (ESV) This was both spoken and sung together.
Community
Within houses and small groups, they did team-building games intended for both community building and fun, as many of these kids were dealing with trauma, fear, and loss outside the classroom.
Dancing was brought into the curriculum. Collins believes that, done the right way, "dancing is an important aspect of community. It intensifies relationships, and brings joy." Their Hymn of the Month allowed them to "get a little blue-grassy" and turned out to be perfect for learning the Virginia Reel.
Discipleship
Classical educators realize they are primarily discipling souls. This becomes more difficult when dealing with situations beyond their own experience.
Calling on a respected Christian counselor, Keith McCurdy, Collins helped her faculty process the situation so they could disciple their students. "He was essential to helping teachers to be instruments of healing. In every interaction with the kids, it helps if teachers are unified in approach. The teacher has to know the truth in order for the students to be taught."
According to Collins, "Every Christian was deeply encouraged by the evident work of the Holy Spirit in the midst of tragedy." At times it felt like a "well-orchestrated three-ring circus. Every day we'd finish the day and say, 'OK, we're going to make this change and do this and that.' And then I would email teachers. We rolled with it. It was an incredible feat of administration on behalf of all our staff." The students are doing well. They still get a little nervous when it rains.
Rebuilding
While students attended school at the Alamo, donations of money and time continued to pour in.
Over $10,000 was raised on Covenant's website donation page alone. Schools, individuals, and organizations sent checks during the next several months totaling over $200,000. An anonymous donor connected with nearby Grapevine Christian School gave another $100,000, saying, "Because we know what it's like to survive a flood. We know what you need and you need money right now. We want to leverage our gift by asking the school to match it." They raised an additional large sum from the Grapevine Christian School community in just one day.
Another nearby school, Brazos Christian, brought a van full of people and was a significant labor force. Covenant Christian School in Indianapolis sent a group of 11th grade girls who "worked their fingers to the bones" putting Covenant's library back in order. North Cobb Christian School sent a team to encourage our teachers with hand-written cards for each and every faculty and staff member. Their student council donated $1,000 to our student council with the provision that the money would be spent only on something fun. Donations of furniture, supplies, books, and even kitchen equipment came from individuals, churches, and schools. Churches supplied food and shelter not only for locals but also for those who came to help. Many sister CCE schools helped as well. They were overwhelmed by the kindness of others and inspired by their example.
In five weeks, they were back at their school. Covenant believes that, if anyone kept track of God! He gives us the these sorts of things, this would be a record. victory through our The Covenant community returned with
a new-found love for walls, floors, and bathLord Jesus Christ. rooms. But, that's all they had. They learned
—1 CORINTHIANS 15:57 a different way of continuing to lean in. The refinishing was not complete until their first open house in late October. It was a tough deadline, but as Collins said, "We were determined to at least look civilized. We were not going to be the school that looks like it's not going to make it."
Collins appreciates the city's mantra,"Houston Strong." She recalls, "In other tragedies like this, I've seen people respond as victims. People need to not be victims. Houston refuses to do that, and it makes me proud to be from Houston."
And she believes more firmly today in her mission.
"The essence of classical Christian education is that we are not defined by what happens but by how we respond, and we want to learn to respond in all situations with truth, goodness, and beauty. Our identity in Christ allows us to be more than someone who endures; we are more than conquerors. CCE is about understanding who you are in Christ.
While at their temporary location, art projects were designed to help students process the devastation they saw in their city and school.