A Tribute to Matt Hopkins
Matt Hopkins met Jesus in high school, rowing in college, and teaching in grad school.  Those passions shaped his vocation for his entire life.  In extolling the virtue of rowing Matt would point to Jesus, who coached His own rowers by sending them out on a long, steady-state junket across the Sea of Galilee.  "Two by two" was Matt's argument for rowing doubles. "Jesus preached from boats," he would call through his megaphone on the water. And Matt did as well. With words and actions.
For years he coached at a local public high school, a team he helped to establish as a college senior while supplementing his work with teaching, and eventually landed on a seemingly perfect ministry model: working as a Youth For Christ Campus Life Director at that school. One morning ten years in, he met one of his student leaders crying at her locker.  Prodded, she explained. "We talk about making a difference here, but I have scars all over me from this place."  She led worship before school and then contended with an antagonistic culture the rest of the day.   Matt realized then that Vicki, and other young students like her, needed to be educated elsewhere.
He committed to creating a place where Christian students could become influential leaders and culture shapers in the context of a rigorous academic environment founded on the premise that all truth is God's truth. That promise was realized in the building of Augustine Classical Academy.  He took on the role of founding Head of School when no one else was willing.  In retrospect, it was the work God had been preparing him for all his life, and the work that would become the final chapter in his life.
God gifted Matt not only with coaching skills but also with vision.  Where some saw an overgrown riverbank, he saw a launch site for a rowing program. Where some saw an old bank building, he saw the new upper school. In the same way, he had the uncanny ability to call out the potential in students and teachers, as if he could truly see them through God's eyes, as beloved children of the Maker, created for a purpose. He built God's kingdom by building into others.
At Augustine, not only did students thrive, but Matt thrived.  He had sensed that modern education was schismatic, compartmentalizing not only learning but identity.  As he worked to incorporate unifying principles in classical Christian education, he found the unity he had been seeking, and he offered it to others. Parents met with him, drawn by the school's growing reputation, thinking they were looking for a place to educate their child.  Matt explained what they were really looking for was paideia, a culture of learning that shaped individuals and families for the glory of God.  Parents eventually realized that in these interviews, Matt was not simply admitting students but families—that he was indeed guarding the doors to be certain that parents were aligned with the school's vision and not seeking a client-provider relationship. And for those drawn to the mission Matt charismatically presented, he would shake their hands and welcome them in.
At Augustine he built a culture of playing hard and working hard. He was always one for managing risk, not avoiding it, and would take the lead on extreme field trips such as spelunking or canal exploration by river.  He led infamous trips to the Met in NYC, and overnights in churches for rowing races, and stood resolutely committed to ski days for the effective discipleship opportunities they created for families.
The year of Augustine's first kindergarten class, he cast a dream for the girls—with their saddle shoes and their shimmering eyes—that one day they would win the Freshman Girls Quad event at the Stotesbury Cup Regatta, the largest scholastic regatta in the world. Each year he would remind them of his dream.  In the spring of 2021, Matt cheered them on from his coaching launch.
For Friday's racing in Philadelphia, the girls pulled the fastest time in their heat and their event.   The next morning at breakfast, Matt fell unconscious. An ambulance brought him to the hospital while the athletes headed to the course. An MRI revealed a tumor in his brain and doctors rushed to perform an immediate craniotomy.  That evening, Lily, his daughter and one of the sweet kindergarteners from years before, came to meet him in his hospital room with the Stotesbury Cup Trophy they had won earlier that day.   That moment brought bittersweet joy over the girls' accomplishments. Had Matt's coaching career come to a glorious but abrupt end?
God granted Matt fifteen months of life after the surgery, months marked by physical and cognitive decline. With assistance, he was able to coach through the Fall rowing season.  In December, he tearfully stepped down from leadership.  A celebratory service in March honored his leadership, service, and his Kingdom building work through classical Christian education. In June, he handed out diplomas from his wheelchair and prayed over the seniors.  On September 4th,  the Sunday before school was slated to begin, the Lord called him home.
Matt taught athletes to row and students to think; he taught teachers and parents to disciple children to a faith in Jesus rooted in knowledge, understanding, and wisdom; he dreamed of a campus on the water and longed to share a new vision for athletics in classical Christian education;  he taught all those who knew him how to play, and would regularly remind others of the words by Kenneth Grahame: "Believe me, my young friend, there is nothing—absolutely nothing—half so much worth doing as simply messing about in boats."
For a boy who grew up along the upper west side of Manhattan, looking over the Hudson River, and a man whose last home was in upstate NY on the Hudson River in Stillwater, Matt Hopkins rejoices that "there is a river whose streams make glad the city of God, the holy habitation of the Most High" (Psalm 46:4).  Now, in his absence, others must pick up his tools and continue his Kingdom work. The Lord sees the whole of our life in a moment, and in that moment we turn our eyes to Him, and keep building.  To all of us left in his wake, we row on.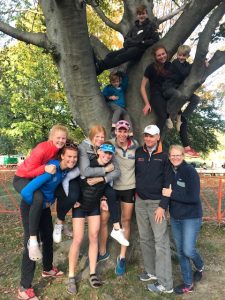 Tamra Hopkins, Dean of Instruction, Augustine Classical Academy, Mechanicville, NY
Matt and Tamra were married for 30 years and have 9 children, one of whom graduated from Augustine in 2022.