This year's Blakey Art Competition had 12 drawing entries and 12 painting entries from 16 different schools. For the first time ever, we have a tie for first prize in the drawing category. (There is no second prize.)
Drawing
The first of the drawing winners is "Colonnade" by Gabriel Crane of Rockbridge Academy in Crownsville, Maryland.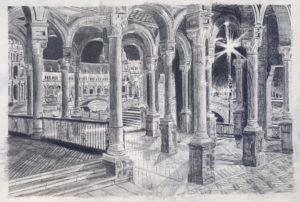 Drawing: First Prize (Tie) "Colonnade" Gabriel Crane, Rockbridge (Crownsville, MD) 10″ x 15″, graphite on paper "I have always loved the medium of graphite and seeing how far I can stretch its realism. Graphite has always been my favorite medium for anything I try to replicate, and I love the contrast it can express in any scenario. This drawing was after a photograph taken in Italy, displaying the beauty and contrast of the columns and lights. Paul Cadden is an artist I admire for his great attention to detail. This brings each of his drawings together into a masterpiece. His lights and his darks contrast incredibly well, making an ordinary scene look stunning. These are all aspects of drawing that I try to incorporate into my drawings and try to grow and improve in."
Comments from the judges:
". . . the fun thing about this drawing is that the longer you look, the more your eyes will take in. Looking around and through the columns unexpected details like small bridges and ironwork begin to appear like Easter eggs."
"The attention to detail here is really excellent. There are so many points of light and shadows, and I admire the artist tackling it."
Drawing
The second of the drawing winners is "Dom's Dodge" by Dominic Heater of Faith Christian Academy in Kansas City, Missouri.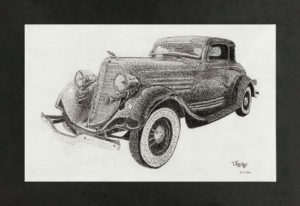 Drawing: First Prize (Tie) "Dom's Dodge" Dominic Heater, Faith Christian Academy (Kansas City, MO) 7.5″ x 12″, ink (micron pens) and paper "Georges Seurat influenced me as a young boy when I studied his painting called A Sunday Afternoon on the Island of La Grande Jatte. When I was learning about how this painting was done with dots, I was intrigued by this style of art and wanted to try it someday. My current art teacher, Mrs. Van Wyk, gave me the opportunity to try stippling this year. This is a form of art similar to pointillism, but it is only done in black and white. I chose to do this car because my grandfather and I restored this rare vehicle together. This is a fond memory for me and I wanted to attempt to draw it using a form of art similar to Georges Seurat's. We named the car "Dom's Dodge" because he plans to someday give it to me."
Comments from the judges:
"Love the perspective and I love pointillism! Good strong light source too!"
"I have to admit, I liked this drawing even more after reading the story behind it. I'm sure the drawing (as well as memories with his grandfather will be treasured forever). The value transitions are well done and the stippling is fantastic–just a little "wobbliness" in the tires."
Painting
The first prize winner is "Steward's Care" by Calvin Van Leeuwen of The Wilberforce School in Princeton, NJ.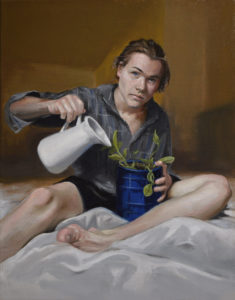 Painting: First Prize "Steward's Care" Calvin Van Leeuwen, The Wilberforce School (Princeton, NJ) 11″ x 14″, oil on stretched linen "Over the past year I have felt an undeniable call towards stewardship over creation and the deep fulfillment which comes through practicing it. I was searching for a way to communicate both the simple pleasure of taking care of plants, as well as a fundamental, God-given purpose that human beings have to care for the natural world. For guidance and inspiration I looked towards Bouguereau and Rembrandt. Bouguereau was excellent at capturing pleasant aspects of life. The way he bathed his figures in clear light, which makes the figures exude light, as well as the way he gave his figures a sense of presence and weight, influenced my layered technique of painting. Rembrandt's impact on the picture is primarily found in the portrait, which emphasizes brushstrokes and shadow shapes. I chose direct eye contact with the viewer, for which his portraits are known, in order to encourage the viewer to interact deeply with the painting which could be overlooked due to the ordinary nature of the scene. Both artists' specific and bold use of color encouraged me to open up my palette and use pops of color as compositional elements, in addition to value."
Comments from the judges:
"Steward's Care is a beautiful piece that captured my attention the moment I saw it. I can see the artist's love of cultivating beauty and stewardship in the world, through art and care of plants. It is a beautiful piece."
Beautiful! Lovely brushstrokes, poignant expression, the movement of the figure and the composition make this the glowing gem it is."
Painting
The second prize winner is "A Slip in Time" by Ava Grace Koele of Coram Deo Academy in Flower Mound, Texas.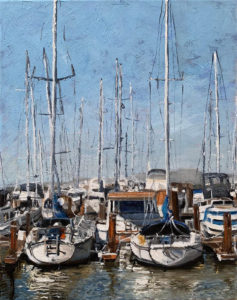 Painting: Second Prize "A Slip in Time" Ava Grace Koele, Coram Deo Academy (Flower Mound, TX) 20″ x 16″, oil on canvas "The artist that influenced my painting was G. Harvey. For years we have had a picture of a waterscape hanging above our mantle in our living room. I have always been attracted to the peacefulness of it. The mysterious but calm feeling of the painting and the boats on the water have caught my eye. I grew up spending time on the lake and it is a familiar subject, which is why I was drawn to painting a waterscape. This mood is reflected in my painting because of the serene feeling with the blues and muted colors that I used. Also, the stillness of the boats and the water contribute to the calmness of the picture."
Comments from the judges:
"A Slip in Time is beautifully capturing a peaceful day on the water. The color choices reinforce the artist's intent."
"Excellent attention to detail and focal points. Excellent use of color. Well done on the values and techniques of the medium."
---
To see more details and past years winners, click here.
Thank you all for participating as judges and for your contribution to the competition this year!