BY LIZ HORST
Culture is not an intellectual abstraction. It is human energy expressed through creativity, conversation, and community.
–Dana Gioia
In a 2013 article, "The Catholic Writer Today," the poet Dana Gioia probes a wound he believes should trouble all Christians. He calls it a "schism between Christianity and the arts," which has been worsening since the 1950s. According to Gioia, the years following World War II brought a mini-Renaissance—a flowering of Christian art in both Europe and America, which included many writers who are still household names: Walker Percy, Flannery O'Conner, T.S. Eliot, Czesław Miłosz, J.R.R. Tolkien. But the years since then have marked the "intellectual retreat and creative inertia of American religious life." Gioia ends by calling for believers to reoccupy their rich tradition as incubators of an artistic culture.
Gioia's article has inspired many responses and movements. One such movement was begun recently in Maryland by a Rockbridge Academy alumnus, Justin Horst. In 2016, Justin and his wife, Liz, started a nonprofit called the Eliot Society, dedicated to reconnecting faith and the arts in the Washington, D.C., area. Their organization is named for T.S. Eliot, the modernist poet who argued that Christian faith and artistic culture are inseparable.
Justin Horst graduated from Rockbridge Academy, Millersville, MD, in 2004 and went on to become a software engineer. When he entered the working world, Justin found that the people and institutions around him held a different—and more impoverished—vision of the world than the one he had encountered in his classical Christian school upbringing.
Though an analytical scientist, Justin's imagination was profoundly shaped by the works of art, music, and literature he encountered at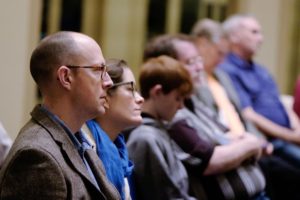 Rockbridge, in combination with the classroom discussions in theology and philosophy. He gained there a glimpse of the unity of those three transcendentals: Truth, Goodness, and Beauty.
For many centuries of the church's history, beauty held a prominent place in the life and worship of ordinary believers—in the form of music, visual art, drama, and architecture. Much of the world's greatest art was financed by the church for the education and enrichment of the people and for the adornment of worship spaces. Today, however, it is not uncommon to find churches who care nothing for architecture, or who don't know what to do about music, or who are afraid of visual art.
Justin wanted to hear Christians asking important questions. What is the role of art and beauty in the life of the Church? In what ways does human creativity reflect Divine artistry? How does beauty help us worship God with our whole mind, heart, and soul? How can we enhance our worship and our witness through art? What are the needs of the artists in our churches?
Justin and Liz began talking about how they might build an organization that served a double purpose. They wanted to provide a platform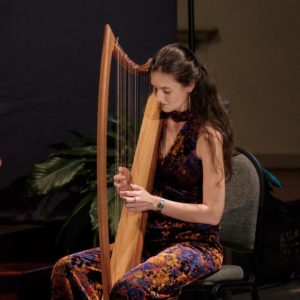 where believers could enjoy and discuss the arts together, as well as foster a community where artists could grow and find support. Before long, they had put together an enthusiastic board, which included several alumni and teachers from nearby classical schools.
SUPPORT FOR ART, SUPPORT FOR THOUGHT
Since its inception in 2016, the Eliot Society has hosted a number of public events. Their lecture series has featured well-known speakers such as Ken Myers and Philip Bess, as well as several local artists. They have arranged concerts, poetry readings, and other artistic presentations. Through their events, the Eliot Society hopes to foster the creativity, conversation, and community that Dana Gioia describes among artists within the Church, and also among the larger body of Christian believers.
The Eliot Society has an exciting year planned for 2020. In January, they will host a joint event with Rockbridge Academy, featuring C.S. Lewis scholar Andrew Lazo. Lazo will be speaking about the theme of love in Lewis's Chronicles of Narnia, as expressed through the figure of Lucy. They are also launching a new project—a fellowship for artists, where writers, poets, musicians, visual artists, and others can come together for encouragement, motivation, growth, and friendship.
In order to carry out their calling and produce work that is both excellent and true, artists need the discipleship and support of the larger church body. There are many ways ordinary believers can support the arts, and the artists, in their midst. They can encourage young artists in the pursuit of their craft; they can give time and attention by attending concerts, readings, and art expos; they can give financially; or they can support classical Christian education, where students may learn to love beauty within the context of the Christian tradition.
Justin and Liz are eager to see how a deeper engagement with the arts might enrich Christian worship and fellowship, and further the Christian witness. As Justin learned during his time at Rockbridge, beauty is not a luxury for the elite—something for artsy folks to enjoy and the rest to ignore. It is a vital part of the Christian faith, of human experience in a fallen and redeemed world. Made in the image of a Creator, all people are sub-creators in one way or another. And every Christian—whether an artist, a teacher, or an engineer—may be equipped to bear witness to the beauty of the Christian faith. This is the task of Christian education, as well as the Eliot Society—to equip the next generation, and to inspire them to carry the work beyond the school walls, out into the world.
To visit the Eliot Society or to support their work, visit: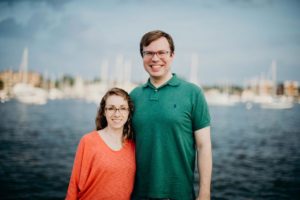 JUSTIN AND LIZ HORST are founders of the Eliot Society headquartered in the Washington, D.C. metropolitan area. They have two Rockbridge Academy legacy children in kindergarten and 2nd grade.
SONMIN CRANE the communications director at Rockbridge Academy, Crownsville, MD.