by Timothy Pauls   |   Winter 2017
Practicing Holidays
Quick Links: Traditional Church Calendar (PDF)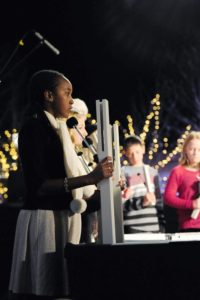 The year is full of holidays. From December through May, the holidays we celebrate are largely sacred in origin. The biggest, of course, are Christmas and Easter, but there are many more. The holidays from June through November are largely secular. Oddly, the sacred-secular divide is alive and well in the American holiday calendar.
These holidays are gathered into six- month time frames for a reason. Historically, Christians have followed a schedule of Scripture readings for worship that divides the year in two, the Half Year of Our Lord (approximately December through May) and the Half Year of the Church (June through November).During the Half Year of Our Lord, readings trace the life of Christ. Throughout this time, specific holy days observe important events in His life and ministry, and there are more well-known celebrations.
The benefit of remembering these holy days is obvious: they teach the story of Jesus.When celebrated properly, your faith and knowledge of Christ are fed and strengthened. [bctt tweet="When celebrated properly, your faith and knowledge of Christ are fed and strengthened." username="classicalchrist"] The Annunciation (March 25) remembers Gabriel's announcement to Mary that she will be the mother of God—and so Jesus is both God and man. The Baptism of Our Lord in January reminds us that Jesus numbered Himself among sinners to be our Redeemer.
One sort of church holy day remains: commemorations of saints.These are often ignored, as Protestants are normally quick to dismiss it as a Roman Catholic practice. However, if we define "saint" from Scripture alone, a saint is one who is sanctified or made holy by God; therefore all Christians are saints. If we Christians are happy to take time off in remembrance of Washington, Lincoln, and Martin Luther King Jr., and if we're happy to teach our children Aesop's fables and Grimm's fairy tales, why would we not also learn from the saints, our brothers and sisters in Christ, who have gone before us?
The courageous witness of Stephen (December 26), Ignatius (October 17), and Polycarp (February 23) inspires us in fearful times. The faithfulness of Dorcas, Lydia, and Phoebe (October 25) teaches us humble service. Elizabeth of Hungary (November 19) sets the bar for charity and sacrifice in the midst of materialism, a nod to Martin Luther on his birthday (November 10) reminds us of the joys of a good conscience fed by scripture alone.
Between the festivals of the church year and the commemorations of saints, the calendar is full of Christian celebration– and opportunities to think on holy things. Blessed holy days!
TIMOTHY PAULS serves as pastor at Good Shepherd Lutheran Church, and a board member of The Ambrose School, Meridian, ID.