Karen Race Photography 2019
By Keith & Kristyn Getty
Christmas is a time to remember. The familiar smells from the kitchen. The familiar sounds of children laughing. The familiar glow of a dimly lit tree. Each of these and so much more reminds us of moments in our past—glimpses of experiences and emotions that have shaped the very way we view our lives.
Even if you've never been to California, you are probably familiar with the incredible forest of Redwood trees that have stood inconceivably high and unimaginably strong for many, many centuries. In terms of the faith, the Redwoods of our songs are the Christmas carols. The great carols explain the gospel in some of the most winsome, yet biblically complete ways. They take us not just through the gospel story, but they also offer us a compelling incarnational, yet equally eternal, perspective. Once in Royal David's City, a song written to explain to children what Christmas means, is a pristine example of this divinely mysterious balance.
Not in that poor lowly stable,
With the oxen standing by,
We shall see Him; but in heaven,

Set at God's right hand on high;
Where like stars His children crowned
All in white shall wait around.
When we engage to understand the great carols of the faith, we move towards understanding the gospel, eternity, and how the story of the Christ who has come, yet will also come again, is the very fulcrum upon which the entire universe hinges. The gospel stops becoming a mere theory of self-improvement and instead becomes a daily source of glorious transformation as our hearts are reminded that there is One higher, stronger, and able to save in ways we never could… One who:
Mild he lays his glory by,
Born that man no more may die:
Born to raise the sons of earth,
Born to give them second birth.
Hark! the herald angels sing,
"Glory to the new-born King!"
But the Redwoods are more than just strong… they are also breathtaking marvels of beauty that captivate the soul. So are the carols. After all, these are the timeless melodies of Holst, Handel, Mendelssohn, and Beethoven masterfully coupled with the incomparable lyrics of Rosetti, Wesley, and Watts. The reason these last through the years is that they are brilliant. And yet so many churches today choose to predominantly sing songs written by their own modern songwriters. (I'm one of them, so I'm criticizing myself here.)
Christmas also reminds us that God's people singing together is something that should begin in the home. When I think of all the temporal things that will be shared in homes this Christmas—the materialism, the lies, the selfishness—I am reminded that we should intentionally fill our homes with the songs of the Lord. Just imagine the spiritual implications of change and legacy that are possible if our children were to walk around our homes singing lyrics like these from In The Bleak Midwinter:
What can I give Him, poor as I am?
If I were a shepherd, I would bring a lamb;
If I were a Wise Man I would do my part;
Yet what can I give Him: Give my heart.
I love Christmas music—from classical to big band to Michael Buble, whose Christmas album I happen to count as one of the most brilliant ever recorded. I love all these things, but I hope that when we stand before God someday, the songs we actually put into our children's hearts and upon their lips weren't merely about presents. I hope that they more so learned to sing and enjoy the gospel.  
When we sing the Bible, we are singing to one another. Sacred singing is a group activity. This is why it is so tragic when churches and people do not recognize the biblically inherent and community-enriching opportunity to sing together. Christmas is a chance for everyone, despite our "worship wars" or struggles with singing as a congregation, to come together to sing to one another. It forges and strengthens the bond of faith among the church family of both young and old, especially in light of the modern church practice of foregoing a multigenerational family worship experience, choosing instead to split services into traditional and contemporary. 
The great American revivals that shook this nation were known time and time again, even in the secular newspapers of their day, for the way the people were singing. Singing captivates people's attention… and thus Christmas is an incredible chance to bear our testimony. It is a moment for us to invite others to the beauty of this grace in which we stand because the lyrics to the carols are so invitational.
How silently, how silently,
The wondrous gift is given!
So God imparts to human hearts
The blessings of His heaven.
No ear may hear His coming,
But in this world of sin,
Where meek souls will receive him, still
The dear Christ enters in.
How many people are walking around this Christmas season enslaved by fear and sin… who need rest and consolation during these days of inflated emotions? The Hope of the world is found in these carols. People actually want to sing these songs because there is an air of familiarity to them, but we know there is so much more—something that spans the generations and has spanned the great chasm between God and man.
Growing up with an Anglican liturgy, we were always encouraged to feel like we were a part of the Church universal. Our practice was to pass things on from generation to generation. The New Testament and Psalms both lean into the idea of remembering what God has for previous generations, which then leads us to take note of the ways God is equally active in our present generation. The old hymnals gave us the sense that we were singing from the Jewish Psalter, even though we were actually singing the hymns of the church fathers, the hymns of the reformers and revivalists, and the hymns of the missionaries who ventured to the uttermost corners of the world. 
There is a humility to this way of approaching singing. When we are so obsessed with modern worship songs, ultimately, we can alienate current generations, from the Millennials forward. They are fed up with being conned, but the carols remind them that we are actually a part of a bigger story that goes way, way back. Not only are these hymns outstanding and beautiful—treasures and masterpieces of the Church—but when we sing them, we are joining ourselves with those who have gone on before us. When the young and the old sing these timeless truths together, the gospel suddenly becomes more believable again to everyone present, as well as to everyone watching. 
Finally, the carols either speak to us of a time in our lives where our faith was clearer or stronger, or they remind us of how far we've come. Christmas is a very emotive season. This year to close out at our Christmas show program, we sing Psalm 91, the Messianic Psalm. These lyrics from Thou Didst Leave Thy Throne reveal so much:
Oh, come to my heart, Lord Jesus!
There is room in my heart for Thee;
Oh, come to my heart, Lord Jesus, come,
There is room in my heart for Thee.
Every time I sing these words, they remind me of times in my life when my emotions were very aggressive and confusing, but when the expression of these truths led me to divine resolution. They acted as wonderful ministry to my soul. There is an importance of repetition and rhythm in life, and coming back to this story and these truths this time of the year elevates this importance.
It is no surprise that the Christmas carols are the masterpieces of the hymns. Martin Luther relished the chance to sing the gospel, but especially at Christmas. At the time of the Reformation, congregational singing and singing in the common language of the people were both considered heretical acts, but Luther saw congregational singing not as an innovation, but rather a return to the biblical practices followed well by the prophets and the ancient Church fathers.
Luther himself wrote about the joy of the gospel revealed at Christmas when he composed these words in the hymn From Heaven Above to Earth I Come: 
From heaven above to earth I come
To bear good news to every home;
Glad tidings of great joy I bring,
Whereof I now will say and sing.
To you this night is born a child
Of Mary, chosen virgin mild;
This little child, of lowly birth
Shall be the joy of all the earth.
Just like Redwoods that will be here long after we're gone, the carols offer us a vision of the immense future ahead of us because they are firmly about the gospel — about peace, hope, joy, and love. They are about eternity and the first advent pointing to the second advent of Christ's return. 
Every carol, and almost every great hymn, brings us to eternity, something we often miss in modern worship. They ultimately remind us that hope for this world is not within ourselves or even in finding our truest selves, but rather it is found outside ourselves. Like the Redwoods, our hope is higher and stronger… but even better, because it is also eternal.
---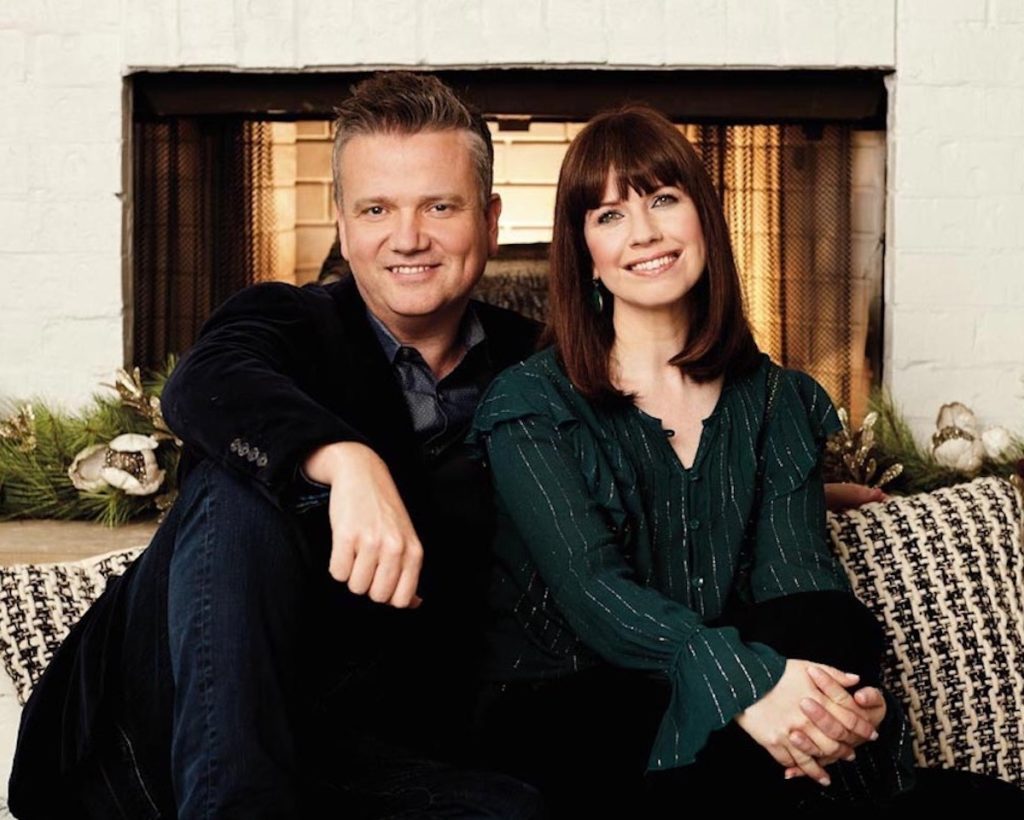 Keith and Kristyn Getty occupy a unique space in the world of music today as preeminent modern hymn writers. In re-inventing the traditional hymn form, they are creating and cultivating a catalog of songs teaching Christian doctrine and crossing the genres of traditional, classical, folk and contemporary composition which are sung the world over. In 2017, Keith Getty was made an "Officer of the Order of the British Empire" (OBE) by Queen Elizabeth II for his contribution to "music and modern hymn writing," marking the first time the award had been given to an individual involved in the world of contemporary church music. Keith and Kristyn Getty are the authors of "Sing! How Worship Transforms Your Life, Family, and Church," published in 2017 by B&H Publishing Group.
Bringing their world-famous and unique blend of Irish/American bluegrass and modern approach to traditional hymns, Getty Music has given us timeless treasures for the church and the Christian life. From classics like "In Christ Alone" and "The Power of the Cross" to several albums recorded especially for children and the family, all ages are sure to enjoy their inclusive feel to their musical performance and world-class professional tour. For more information on Getty Music and the Irish Christmas tour, visit www.gettymusic.com.
Tracklist & Purchase Options:
Sing We Now of Christmas

God Rest Ye Merry Gentlemen

Inishowen

Sleigh Ride Medley (Instrumental)

Elizabeth – featuring Ellie Holcomb

Isaiah 9:2,6 – featuring Pedro Eustache

O Come, O Come Emmanuel

Come, Thou Long Expected Jesus

O Children Come featuring Trip Lee

Silent Night – featuring Phil Keaggy

Luke 2:8-14 – featuring Pedro Eustache

Sing We the Song of Emmanuel – featuring Matt Boswell and Matt Papa

Angels We Have Heard on High / Joy Has Dawned

Thou Who Wast Rich Beyond All Splendor

In the Bleak Midwinter

In Christ Alone

Joy to the World

An Irish Christmas Blessing

O Come All Ye Faithful
Available at:
---
Silent Night – Gaelic Version
Enya – Silent Night – Gaelic Version
---