Most students spend no more than thirteen years at their school, after which it's time to go on to college and a career.
This year, five of Cary Christian School's (CCS) alumni are teaching and serving the next generation of students at their alma mater. You can find them in every hall of the school, teaching a spectrum of students from first graders to seniors, as well as in the administrative offices. We recently had the opportunity to sit down and hear their unique perspective on how their education prepared them for college and for life, how it shaped them as teachers, and why they decided that thirteen years at their classical Christian school simply wasn't enough.
WHO ARE THEY?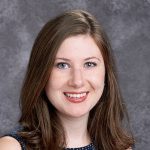 Mrs. Kristen (Grubbs) Clarkson, Class of 2014 ▪ Classical & American Literature Teacher (9th & 12th Grade) ▪ Graduate of NC State University (B.A., English Language, Writing Composition, and Rhetoric with a minor in Classical Greek Studies) ▪ Currently pursuing a M.A. in Classical Education at the University of Dallas ▪ Married to one of her classmates at Cary Christian School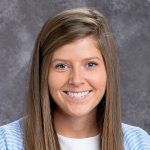 Ms. Rachel Douglas, Class of 2012 ▪ Literature & Composition Teacher (7th Grade) ▪ Soccer Coach (Middle School Gold Girls) ▪ Graduate of NC State University (B.S., Middle Grades Education with a focus in Language Arts and Social Studies)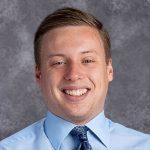 Mr. Brian Mitchell, Class of 2013 ▪ Literature & Composition Teacher (6th Grade) ▪ Baseball Coach (Middle School) ▪ Graduate of Liberty University (B.A., Psychology)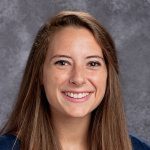 Mrs. Emily (Ficken) Nelsen, Class of 2011 ▪ 1st Grade Teacher ▪ Track Coach (Varsity) ▪ Graduate of NC State University (B.S., Elementary Education with a minor in Business Administration)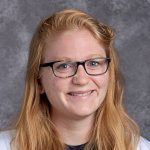 Ms. Leah Thomsen, Class of 2012 ▪ Assistant to the Headmaster & Director of Communications ▪ Tennis Coach (Varsity Girls) ▪ Graduate of Grove City College (B.A., Biblical & Religious Studies and Philosophy)
WHY DID YOU WANT TO COME BACK TO CCS?
Ms. Douglas: CCS feels like a family. Coming back was appealing because it offers a classical education founded upon a biblical worldview. After experiencing both a biblical worldview and secular worldview in college, the privilege to have biblical conversations and discussions in class was appealing. Furthermore, the quality of education CCS provides is unlike other educational systems in this area. To be a part of that again as a teacher is a blessing.
Mr. Mitchell: Growing up through a school where everyone is close-knit allows for deep friendships and relationships long after one graduates. Coming back was comfortable and exciting.
Mrs. Nelsen: I wanted to come back to CCS right away, even while in 12th grade. I always felt like God had given me the gift to teach and also to nurture and build upon good foundations. I was grateful that the foundation would begin at church and home and I would get to expand on the truths of how God works in our world and life. I wanted to come into the classroom with a mission of bringing joy.
Ms. Thomsen: I worked at CCS over the summers and built strong relationships with the faculty and staff even when I was away at college. I loved the culture of the school and felt at home all during my time here as a student and after graduation. I loved seeing the Lord's hand in directing the school, and I was excited to join that mission.
HOW DID YOU RECEIVE A UNIQUELY CLASSICAL EDUCATION AT CCS? HOW DOES THIS CLASSICAL APPROACH SHAPE HOW YOU TEACH TODAY?

Mrs. Clarkson: My literature courses at CCS focused on analysis, not just comprehension, at the rhetoric level. In this way, I was required to learn to think for myself. Then, I was required to present and defend those thoughts. I teach using the same Socratic and mimetic pedagogical methods. Considering our purpose as Christians, I desire that my students can discover truth for themselves, present truth to others, and defend truth when it's attacked. The skills we practice and virtues we unpack in my literature courses train students how to handle any text.
Ms. Douglas: The model for Socratic dialogue, the basic foundational pedagogy to a classical teaching strategy, is the best way to gain understanding. Using this method in the classroom allows students to become their own problem solvers. It encourages students to think critically and to analyze carefully. With these tools, students can achieve greater success than just learning the material and moving on; it allows them to learn the skills necessary to continue learning in life whichever level of education they may attain.
Ms. Thomsen: I didn't know it was happening when I was going through it, however, the thing that sticks out to me the most is the literature that I was exposed to during my time at CCS. I see how the books we read (not just in literature, but also in history and Bible) formed the way that I think and process information. I see how my teachers called me to work hard and engage in thoughtful dialogue.
HOW DID YOU RECEIVE A UNIQUELY CHRISTIAN EDUCATION AT CCS? WHAT DOES IT MEAN TO YOU TO PROVIDE STUDENTS WITH A CLASSICAL CHRISTIAN EDUCATION?

Mrs. Clarkson: My greatest advantage in life is the theological education and love for truth imparted to me by teachers at CCS. In everything, I seek to reorient students' minds around the truth that they were created to glorify God and enjoy Him forever. As we study patterns in literature, we see the folly of living life with any other aim.
Ms. Douglas: Providing students with a Christian education means we can begin class with prayer, we can compare stories from the Bible (as a common platform) to the texts read in the classroom, we can encourage one another to a higher calling, and we can love despite the challenges and struggles we experience on a daily basis. With this as a common ground in the classroom, students are able to live better in community, think deeper, and love well.
Mrs. Nelsen: I loved all my Bible classes. I felt challenged and exposed to really difficult topics while feeling like I was in a safe place. I still remember friends of mine having conversations about Calvinism and Arminianism and really trying to grapple with what it meant. Then going into college, with the foundation and knowledge of the Bible I had received through school and my family, I got to help new college friends with these things I had already been able to wrestle with. While I am teaching little children, I love their innocent questions. "How big is God?" "Why do we have to love our enemies if they are mean to us?" "Who made God?" God has been good to help me find the right words to bring these lofty concepts and big ideas down to simple language that will encourage and show them how God is working in all things at all times.
HOW DID CCS PREPARE YOU FOR COLLEGE?

Ms. Douglas: My teachers at CCS and the training I experienced along the way prepared me for college in ways I did not understand until I got to college. Writing papers was a breeze (thank you high school English!); speaking confidently in front of the class was manageable because I knew the proper rhetoric. Furthermore, my mindset has always been shaped by a biblical worldview. How does Christ fit into this? What is the Lord trying to teach me through this? The way in which my brain was trained to see the world is in part due to my parents, as well as the training I received from CCS.
Mr. Mitchell: CCS prepared me to use logic and rhetoric in college. Literature and English classes were very easy in college because of the challenging curriculum at CCS.
Ms. Thomsen: CCS taught me how to work hard and think critically. I was prepared for the workload and the ideas that I was being introduced to in my majors. I felt competent in my writing because I had great training.
WHAT WAS YOUR FAVORITE BOOK THAT YOU READ AT CCS? HOW DID THAT BOOK IMPACT YOU?

Mrs. Clarkson: Ernest Hemingway's The Old Man and the Sea brings me to tears every time I read it, sometimes even in front of my students! Hemingway pushes a humble man to his limits in order to show the triumph of human determination. Like Santiago, I hope to always pursue what is excellent. The prose style is terse yet packed densely with imagery. It's a novella and is therefore a quick read. It would be worth your while to pick it up sometime!
Mr. Mitchell: I have two favorite books from CCS: The Iliad and The Brothers Karamazov. I loved the Iliad for the pure excitement and the classical form of literature that has been read for generations. The second book, by Fyodor Dostoevsky, showed profound themes through deep characters. Dostoevsky's picture of existentialism and despair make the book so difficult to put down.
Ms. Thomsen: The Abolition of Man. I was so intrigued by how C. S. Lewis was able to envision the moral consequences of truth being subjected to relativism. It seemed almost prophetic to me as I was looking at the world around me and seeing just what he was describing 70 years ago.
WHAT WOULD YOU HAVE PEOPLE KNOW ABOUT CLASSICAL CHRISTIAN EDUCATION?

Mrs. Nelsen and Mr. Mitchell: Classical Christian education has high expectations and standards for its students. But this is a good thing, and we produce a pretty impressive bunch of kids. I am excited about having more people sent out into the world who can talk about God in a real and thoughtful way. What you learn here in school will help you throughout your life in more ways than you know.
WHEN AND WHY DID YOU DECIDE TO BECOME TEACHERS?

Mrs. Clarkson: I decided to become a teacher after reading the Iliad in high school. God used it to open my eyes to the truth that I wasn't created for my own glory. I desire to point generations of students to the truths contained in the great works of Western tradition.
Ms. Douglas: All my life I have loved the idea of being a teacher: teaching the subjects I love, working with children (young students), and of course, having my summers off!
Mr. Mitchell: After working in schools throughout college, I discovered teaching to be a passion of mine. I love being able to pass on wisdom and knowledge to younger generations.
Mrs. Nelsen: I've always tied the start of my desire to teach to 10th grade. I remember being amazed at how great a teacher Mr. Ryan Baker was, and I started to think about teaching myself. When I was in 12th grade I got to observe in K–2 at CCS, and that solidified that 1st grade was exactly what I wanted to do.
Ms. Thomsen: Both of my grandmothers and my mother worked in the school setting. Ever since I was a child, I wanted to teach in some capacity, whether that is formal education or homeschooling my own children. I am so thrilled to be working in the school environment and developing relationships with the students.