Today the Gettys released their new project, the EVENSONG album. David Goodwin interviewed Kristyn about the project this morning from her home in Ireland. Here is the exclusive interview.
A collection of thirteen original hymns and lullabies

Features guest appearances by Vince Gill, Heather Headley, Ellie Holcomb, Sierra Hull, Deborah Kelmme, and Sandra McCracken

Born from a family tradition, Evensong: Hymns and Lullabies at the Close of Day includes the thoughts, songs, and prayers that Keith and Kristyn Getty use at the end of their day with their daughters.
The Evensong album was a dream project for Kristyn Getty. "These are lullabies and hymns we have sung to and for our children," says Kristyn of her four daughters. "Singing God's truth into the more tender and vulnerable moments of the day has been a centerpiece of raising our own kids. I know I need true words spoken into my heart and mind to help de-clutter all that presses in upon me from day to day. I hope these songs help people dwell on the Lord and His promises; to release a burdened mind, to calm a restless heart and point us towards real peace in Christ."
"Evensong" as a practice has always appealed to people by refreshing the soul and informing the mind. During these uncertain times, the need for restful contemplation and focussing on the Word of God is more important than ever for Christians throughout the world.
The album features recordings from each musical collaborator and fuses the Celtic, folk, bluegrass, classical, and Americana sound the Gettys have become known for around the world.
---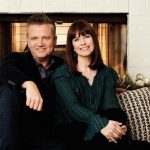 Keith and Kristyn Getty are pre-eminent modern hymn writers in the world today with Keith being the first Church Musician of the modern era to be awarded the OBE from Queen Elizabeth II, for services to music and hymn writing. Their hymns such as, "In Christ Alone", written with Stuart Townend, uniquely cross musical genres and teach Christian doctrine. As ambassadors of hymn writing they have performed for presidents, prime ministers, their annual national hymn tour and Christmas tour including sell-out concerts each year at Kennedy Center and Carnegie Hall.