by STAFF WRITER
Join Sally Lloyd-Jones
Repairing the Ruins 2021
The annual conference of the ACCS
May your life be so settled, your character so established, that nothing will ever move you. —Charles Spurgeon
THE JESUS STORYBOOK BIBLE Q&A WITH SALLY LLOYD-JONES ▾
A word you might hear during a discussion in a classical Christian classroom is "eucatastrophe."
It is actually a modern word created by J.R.R. Tolkien, using the Greek prefex eu, meaning good, attached to the word catastrophe. Tolkien defined it as "the sudden happy turn in a story which pierces you with a joy that brings tears (which I argue is the highest function of fairy-stories to produce)." It is a catastrophe that leads to the protagonist's well-being, the happy ending. Tolkien calls the gospel the greatest eucatastrophe—the happiest of all tragedies (lexico.com).
It is easy to see why this concept is important in our schools. But what does this have to do with family worship?
The Jesus Storybook Bible by Sally Lloyd-Jones  has an important subtitle: Every story whispers His name. Every story in the Bible actually points to the greatest eucatastrophe, the gospel, and the hope of our fallen world even in the midst of life's tragedies. And that should be the point of family worship—to ground our children so well that no tragedy, not life or death, poverty or wealth, riots or pandemics, will make them stumble away from the joy of the cross. The ultimate eucatastrophe is promised and we can believe and hope in it.
This might seem like a difficult concept, but The Jesus Storybook Bible masterfully captures these deepest theological points in ways even young children can understand. This is why we recommend it for reading during family worship, for both young and old alike.
I WOULD URGE not just families with young children to get this book, but every Christian—from pew warmers, to ministry leaders, seminarians, and even theologians! Sally Lloyd-Jones has captured the heart of what it means to find Christ in all the Scriptures, and has made clear even to little children that all God's revelation has been about Jesus from the beginning—a truth not all that commonly recognized even among the very learned.

—Dr Timothy Keller, Redeemer, NYC, on The Jesus Storybook Bible
THE JESUS STORYBOOK BIBLE Q&A WITH SALLY LLOYD-JONES
❶ Why did you write The Jesus Storybook Bible?
I wanted children to know that God loves them. As many of us do, I grew up thinking that the Bible was a book of rules you have to keep so God will love you.
… But I had missed what the Bible is all about.
Because the Bible isn't mainly about us and what we're supposed to be doing. It's about God and what He has done. The Bible isn't a book of rules (there are rules in it; they show us how life works best), or a book of heroes (there are some heroes, but most of the people in the Bible aren't heroes at all). The Bible is most of all a story. The story of how God loves His children and comes to rescue them.
❷ Tell us about the subtitle, "Every story whispers his name."
The Bible has many stories in it, but they are all telling the one big story—the story of how God loves His children and comes to rescue them. And at the center of that story there is a baby. He's the one on whom everything will depend. Every single story of the Bible whispers His name—because everything is about Him, everything is pointing to Him. …
When you see that the Bible is all about the Rescuer who is coming—the young hero, the good shepherd, the true king—it transforms everything. It melts your heart. Because you suddenly realize the Bible is a beautiful love story.
❸ What makes The Jesus Storybook Bible so unique?
The Jesus Storybook Bible captures the entire plot line of the Bible. Every story connects to tell that one story and you see how the whole of the Bible is about the great rescue. The Jesus Storybook Bible is the story of the Bible in its most distilled form.
It's hard to read the entire Bible in one sitting. So the through-story is something that can be hard—even for us as adults—to miss. We can tend to read the Bible piecemeal, we hear sermons, we study passages, but rarely do we sit down and hear the entire story of the Bible. And that seemed to be especially true of children's Bible storybooks.
And when you lose the story that is running like a golden stream underneath all the other stories, you're left with the idea that the Bible is a collection of random-seeming stories about various Bible characters that are there to teach us lessons (almost like a sort of Aesop's Fables).
And we lose the glorious truth of the Bible that we were loved before even the beginning of time. That God had a plan. That He would move heaven and earth to be near us. That no matter what He would never stop loving us. And that one night, in Bethlehem, a young prince would step out of heaven and come down to rescue us.
❹ For someone who has never read the Bible, is The Jesus Storybook Bible a good place to start?
By reading The Jesus Storybook Bible you are getting a kind of road map, so that when you come to read the actual Bible you have a lay of the land. And then you can come to the Bible knowing that it is not mostly a book about you and what you're supposed to be doing. It's this wonderful love story—about a God who moves heaven and earth to be close to us. Who loves His children with a wonderful, Never Stopping, Never Giving Up, Un-breaking, Always and Forever Love.
❺ The Jesus Storybook Bible was written for children, but adults love it—why do you think that is?
If you write for children with respect and treat them with the dignity they deserve—you will capture the adults as well. Children deserve nothing but our very best work. Nothing but excellence will do for the young, because the responsibility is greater. We write up for children, never down.
C. S. Lewis said it best: "A children's story that can only be enjoyed by children is not a good children's story in the slightest." He also said: "No book is really worth reading at the age of ten which is not equally—and often far more worth reading at the age of fifty and beyond."
And, of course, Jesus Himself treated children with great dignity and respect. When Jesus was teaching His disciples—who did He call to stand there to help Him teach? He called a little child (Matthew 18:2–4).
---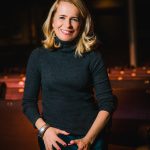 SALLY LLOYD-JONES is a New York Times bestselling writer and frequent performer of her work. She has written over 30 books, spanning the Christian and general markets. Her work has been critically acclaimed by the Wall Street Journal and the New York Times. Her books (which are written for children, but lots of adults are reading) include: The Jesus Storybook Bible, Thoughts to Make Your Heart Sing, Hats Off to Mr. Pockles, Goldfish on Vacation, How to Be a Baby, Skip To the Loo!, Look! I Wrote A Book!, Baby Wren and the Great Gift and many more.