888-338-1776 | Purcellville, VA
---
We asked. They answered. Read their full response below. Keep in mind that these responses are conversational in nature, and do not necessarily reflect the official policies or standards of the school or the ACCS.
What makes this college/university experience unique?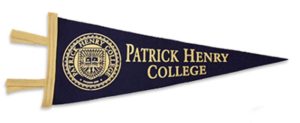 Patrick Henry College attracts some of the brightest young scholars in the nation. They have chosen PHC for the academic rigor inherent in the classical model, for our fidelity to Scripture and to principles of Christ's teachings, and for the atmosphere of learning where both faith and reason are held in high regard.
PHC provides their students an innovative and unparalleled apprenticeship opportunities in and around metropolitan Washington, D.C.
Do you offer any of the following: Great Books courses, Great Books programs, Latin or Greek studies, classical Christian teacher courses?
Great books courses: Our students read through approximately 70 great books over their time here at PHC. Specifically, every student, no matter their major must go through Western Civilization I and II, US History I and II, and Western Literature I and II. The bulk of their Great Books readings will be in these classes. A partial list can be found here.
Great Books programs: While not titled "great books program," our core really stresses the Great books (see above). However, specifically the Literature major really dives deep into the classics (classes on Milton, Chaucer, American Authors, Shakespeare, and more). The professors want you to delve into the classics and learn in a deep way.
Latin/Greek: We offer both! If you are in the CLA department (History, Lit, or CLA) you have to take Greek or Latin. These are both immersive studies. Classical Liberal Arts majors are required to take 4 semesters.
One graduate writes: "I had two years of Latin in High School and the first semester of Latin I here depleted that quickly. Dr. McRoberts, our Greek and Latin professor, is a genius when it comes to languages."
Classical Christian teacher course: This falls underneath our Classical Liberal Arts degree.
One graduate writes: "The Classical Liberal Arts major trains you to think about the whole student (not just teaching to the test, but wanting the student to truly flourish). Curriculum design, dissecting different learning styles, learning about Biblical Worldview and Pedagogy, early Childhood education, and other aspects. It's not merely an 'education degree,' but instead creating 'life-long learners' who want to guide students and people alike to their potential so that they can flourish in life."
Do you have any comments specifically for classically educated students?
Classically educated students will feel right at home and enjoy the company of peers at Patrick Henry College. More importantly, however, they will be challenged from the start. Patrick Henry students read a lot, they write well and they communicate well. Students from ACCS high schools will be well prepared to think clearly and argue persuasively. They will not be bored with the classwork.
To attract mission-fit students, we connect through speech and debate circuits, through Bible quizzing competitions, and through worldview programs. We invite students from a classical school or homeschool curriculum to campus with travel assistance. In addition, we produce webcasts about the importance of classical Christian liberal arts education and promote them on all channels.
For students with a classical background, look into our scholarship of up to $20,000.
What fun and interesting activities happen at your college? Do you have unique traditions or events?
Ballroom dancing is one of the most frequent features of the Patrick Henry College experience, with at least two dances per semester—some formal, some just for fun. The campus also abounds with extracurricular musical and theatrical opportunities, from acapella groups to the campus drama company, Eden Troupe.
As far as traditions go, the Harmoniccomedy is by far one of the favorites. This end-of-semester event is a talent show where two things are always guaranteed—lots of laughs, and lots of good music.
One of PHC's more spontaneous traditions is the "Bobtism," which is the summary dunking of a male student in PHC's Lake Bob as a celebration of his engagement to be married. Before his best friends throw him in, students gather at the campus flagpole to pray over him and his wife-to-be and celebrate their new journey. All in all, students generally agree, Patrick Henry College has a lot of fun and exciting things going to keep life interesting as students travel their academic journeys.
Here's a great post on the Top 10 PHC traditions!
What is your mission/vision statement? How do you ensure your faculty maintain your vision?
The Mission of Patrick Henry College is to prepare Christian men and women who will lead our nation and shape our culture with timeless biblical values and fidelity to the spirit of the American founding. Educating students according to a classical liberal arts curriculum and training them with apprenticeship methodology, the College provides academically excellent baccalaureate level higher education with a biblical worldview.
Every member of the faculty and staff affirm our College's Statement of Faith and Statement of Biblical Worldview. Faculty are chosen to speak in chapel and to mentor students in small groups. Unlike most college, faculty do not have tenure at PHC.