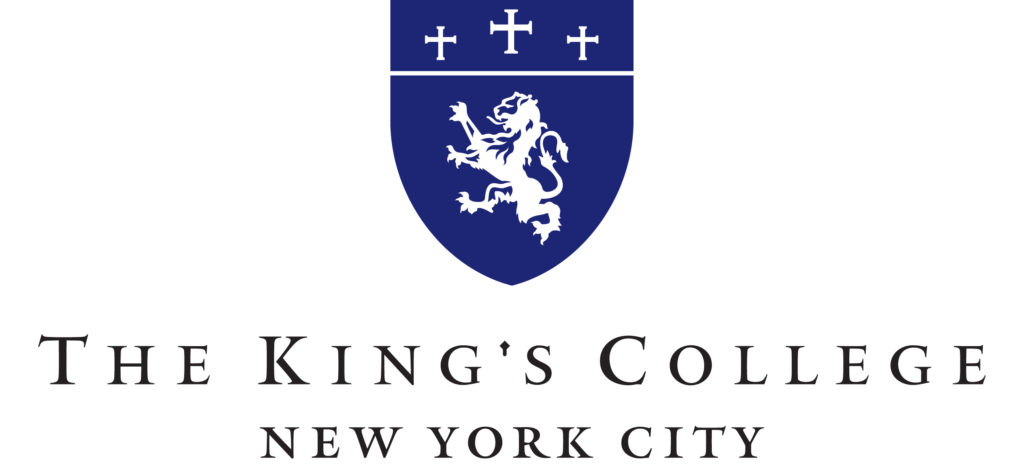 Truth, Knowledge, and Integrity
56 Broadway | New York, NY 10004 | (212) 659-7200 | (888) 969-7200
---
We asked. They answered. Read their full response below. Keep in mind that these responses are conversational in nature, and do not necessarily reflect the official policies or standards of the school or the ACCS.
What makes this college/university experience unique?
The King's College is the only traditional Christian liberal arts college in New York City. Its mission is to teach students to approach the world's great questions through the truths of Christianity and a biblical worldview. Students become men and women of competence and integrity who contend for truth, goodness, and beauty in the world's great institutions.
Through a core curriculum in Politics, Philosophy, and Economics and eight dynamic majors, King's equips students to engage complex ideas with heart, mind, and soul. New York City provides unrivaled internship and career opportunities. King's alumni work for leading names in every field or start pioneering ventures of their own. 
Students live communally in premier residences near the College. Christian formation occurs through all-campus gatherings, a weekly devotional, and student-led worship services. Student life revolves around ten Houses named for consequential historical figures, and is governed by an Honor Code pledge not to lie, cheat, steal, or turn a blind eye to those who do. Not for the fainthearted, King's encourages bravery, commitment, and action.
Do you offer any of the following: Great Books courses, Great Books programs, Latin or Greek studies, classical Christian teacher courses
The King's College just launched a new Humanities major with a pre-modern focus, combining History, Philosophy and Literature. The reading assignments in in these courses, and to a great extent in all of our core courses, emphasize primary sources and the items that appear on many Great Books lists. The Humanities major has as one of its primary goals the preparation of teachers and entrepreneurial leaders for classical Christian education. In that light, we will be reviving regular offerings in Latin starting with the 2017-18 academic year.
Do you have any comments specifically for classically educated students?
Students educated in classical Christian contexts excel at The King's College. Because many of these students want to bring the educational advantages they had to the next generation, we are excited about creating ways for them to prepare for teaching and leading in classical Christian schools, eventually completing a self-sustaining cycle that will greatly benefit the world. Other students parlay their excellent C&C foundations, reinforced at King's, into great success as they help to shape and eventually to lead strategic public and private institutions in politics and government, culture, arts, journalism, publishing, business (for-profit and non-profit), the Church and education.
Almost 40% of our incoming class comes from a home school or classical Christian school background, and we reach out to this group of students extensively since they are such a great fit for The King's College.
Here is a list of schools that represents our student body. Let us know if we missed anyone!
• Augustine Classical Academy, NY
• Baton Rouge Christ Classical School, LA
• Cambridge School Of Dallas, TX
• Classical School of Wichita, KS
• Franklin Classical School, TN
• Geneva School of Boerne, TX
• Heritage Classical Study Center, GA
• Kolbe Academy
• New Covenant Schools, VA
• Oak Mountain Classical School, AL
• Oaks Classical Christian Acad, WA
• Providence Classical School, AZ
• Providence Classical School, TX
• Regent Prepartory Academy, OK
• Rockbridge Academy, MD
• Tall Oaks Classical School, DE
• The Ambrose School, ID
• The Covenant School, TX
• The Geneva School, FL
• Trinitas Christian School, FL
• Trinity Academy of Raleigh, NC
• Trinity Classical Academy, CA
• Trivium School, MA
• Veritas Academy, CA
• Veritas Academy, PA
• Veritas Academy, TX
• Veritas Classical Academy, GA
• Westminster Academy, TN
What fun and interesting activities happen at your college? Do you have unique traditions or events?
Houses engage each other in a year-long series of competitions, including a citywide scavenger hunt, drama and basketball competitions, an academic GPA competition, and a springtime intensive called Interregnum. Interregnum is a three-day event in which the entire College participates in common inquiry into some theme of abiding philosophical and public importance, organized around a work of classic literature. This inquiry takes place through competitive events ranging from debates to art exhibitions, and an evening lecture on the year's theme, given by a distinguished visiting academic of student organizers' choosing.



Separately, the entire student body is encouraged to attend the annual Fall Retreat in the mountains of upstate New York; Houses conduct retreats for their own members and stage social events with and for one another; and the student council organizes an array of events including concerts, charitable drives, holiday festivities, and an annual spring formal.
What is your mission/vision statement? How do you ensure your faculty maintain your vision?


Through its commitment to the truths of Christianity and a biblical worldview, The King's College seeks to transform society by preparing students for careers in which they help to shape and eventually lead strategic public and private institutions, and by supporting faculty members as they directly engage culture through writing and speaking publicly on critical issues.
Full-time faculty at King's are carefully chosen through a rigorous vetting process involving current faculty, academic administration, the President and ultimately the Board of Trustees. In that process, the mission fit of each candidate is scrutinized and reinforced many times before a mutual commitment is made. This in turn makes the faculty's robust role in academic governance here a positive influence on avoiding mission and vision dilution.
The core curriculum drives our academic vision, and faculty who stay and flourish at King's choose to embrace a commitment to that core in the form of their teaching assignments — even elective offerings build on the same themes and truths as the core curriculum. Thus adjunct faculty too are drawn into the same commitments to our Christ-centered mission and vision.