ACCS alumni lead a clear divide between Christians and secular schools.
How will your school choice now reflect on your child's future beliefs? Will your children value the historic church and the Christian foundations of our nation? The Conservative and Traditional profile reflects the influence of school on a student's political, traditional, and social values.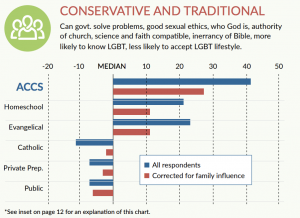 Blue bars are actual data. The red bars reflect the school's effect, isolated from other family factors.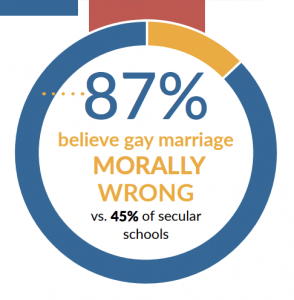 The results here are expected. Conservative Christian school choices yield scores above the median. Traditional Catholic, Private Preparatory, and Public schools all score below the median in relative ratios we would expect. ACCS raw and adjusted scores are twice those of the other conservative school choices.
ACCS alumni have distinct differences with all schools, particularly secular and Catholic, when it comes to orthodoxy. They believe the Bible is inerrant. When you look at the actual data, the difference is quite pronounced.
And, ACCS alumni believe the Bible is true with respect to history and science. We believe this is because ACCS schools typically do not isolate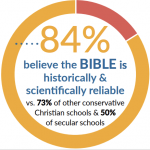 these subjects from "Bible class," so students grow to understand how the truth of the Bible is true for everything, not just personal spirituality.
We've seen that ACCS alumni are about as politically conservative as their evangelical school counterparts, but are more orthodox in their Christianity, and more socially conservative than all groups.