by Jeanette Faulkner   |   Fall 2016
Ten Steps to Starting a Mock Trial Team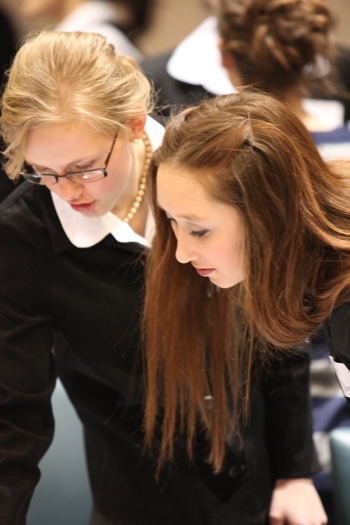 As my husband's job kept us moving over the past 15 years, I became a mock trial fairy starting new mock trial programs at four ACCS schools. Some of my teams competed at regional, state and national competitions. Here are some common tips for starting a team.
1) Secure your administration's support. You'll need a place to practice in the evenings when your attorney coach is available and a budget for registration fees and coach's expenses if you travel to state or national competitions.
2) Find an attorney coach and a drama coach. Litigating attorneys are usually not willing to come to every practice unless they have a child at your school. Bribe your drama teacher with whatever works.
3) Promote the program to your students. Never twist a student's arm to be on the team. If one doesn't feel a strong gravitational pull to this demanding sport, the whole team is at a deficit. At a minimum, you'll need seven team members. A few regions allow a maximum of 12 on a team; other states allow a school to have two teams.
4) Go to the website of your state mock trial program, often sponsored by the State Bar Association or a legal association. There you will learn how to register your team, when the competitions are, find supporting documents, and resources to learn how to coach. Read everything very carefully.
5) Communicate well with everyone. Students also have athletics, jobs, and church commitments. I asked for practice and game schedules from the athletic and drama coaches to schedule our practices around games, student jobs, and attorney work schedules. You can't avoid every conflict, but you can minimize them. Parents and attorney coaches appreciate season-long calendars.
6) Secure a supportive judge or law school that will allow you to use a courtroom for dress rehearsal. Students become acclimated to the feel of a courtroom and are more at ease when they walk into Round One.
7) If you win your regional competition, you'll need to raise funds to travel to state that will cover hotels, travel, and some meals. Nationals held in a different state every year are expensive, but 100% worth the cost if you win at state.
8) Keep it fun for the team. One of my teams had a two favorite fast food places to eat together between school and practice. The moms at another school brought home-cooked meals for the team. We've also had movie nights and all-night practices at a student's home with a swimming pool.
9) Enjoy the experience. When a team comes together with all cerebral cylinders firing, an exciting dynamic jettisons these young people to exciting heights. Warning: mock trial is addictive!
10) Compete like Christians. Being smart and excellent wins respect. Even better is when the students have a voice into the lives of other teens who never thought about Jesus. Eventually, my students learn mock trial is just another vehicle for experiencing the presence of Christ in the pressure of competition and among their generation.  
JEANETTE FAULKNER is a former print and broadcast journalist who currently teaches Logic, Latin and Humanities at Grace Classical Christian Academy in Granbury, TX.