By Chris Potts
  See Charity Kim's speech here.  |  Learn more about the ACCS Repairing the Ruins Conference here. |  Learn more about the Chrysostom Oratory Competition here.
ARE YOU HAPPY? If you are, Charity Kim knows why. And she says you should count yourself fortunate. You may not have a lot of company.
America today, the college freshman contends, is a country whose people are both obsessed with happiness and largely oblivious to what it takes to be happy. The result: depression, anxiety, suicides, and addictions in record numbers.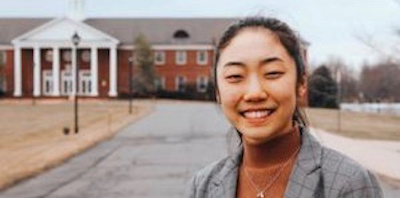 Americans are consumed with finding not so much a surge of excitement, as "a long-term state of well-being and contentment," says Kim, who describes happiness as a "cultural infatuation" in this country. "The problem is not that Americans are simply unsatisfied or discontent, but that they are misunderstanding their very nature as human beings. The happiness that Americans want is antithetical
to their human nature."
Kim knows of what she speaks—and speak it she has. Now in her first year at Patrick Henry College, she spent a good part of the previous year and a half crafting her senior thesis, a presentation of which won her first place (and $1,000) in the Association of Classical and Christian Schools' (ACCS) 2019 Chrysostom Oratory Contest.
More than that, though, what she learned—and how she came to process it—launched what she thinks may
be a lifelong transformation of her own view of faith, life, and herself.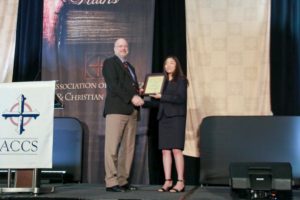 THE DAUGHTER OF KOREAN IMMIGRANTS who met in the U.S. (her dad is a family doctor, her mom a teacher), Kim was born in Pennsylvania but came west early. She grew up in California, and was just starting seventh grade when her folks first proposed enrolling her, her older brother, and her younger sister in Veritas Classical Academy, a small, private Christian school run by her uncle. Kim was not exactly thrilled at the prospect.
"I was kind of hard-hearted to the idea," she remembers. "I missed having a lot more friends, doing sports." Nor did the idea of a Christ-centered education impress her much. "My parents would read the Bible to me every day, but I didn't really have a concept of how gripping those things are for our reality—that God is reality." She didn't change her mind overnight.
"It was a long process," she says. "But over the years, that school opened my eyes to see that Christ really is the center of our universe, and that all truth, all goodness and beauty, not only comes from Him, but it is Him. All those different subjects … those are aspects of God that you're learning about.
" 'All our learning is pointless,' one of my teachers said, 'if we're not using it for loving the people around us, and for loving God.' " As she neared the end of her time at Veritas, that idea became the seed of her award-winning thesis—and a turning point for Kim herself.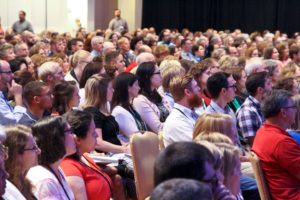 KIM WILL CHEERFULLY TELL YOU how much she enjoyed her ancient philosophy class, but she doesn't have to. There just aren't that many 18-year-olds in the world who can smoothly work Pythagoras, Socrates, and Plato into casual conversation. All of those Greeks gave her in-put, as she mused on what to spend her senior year thinking, writing, and giving speeches about.
"In classical education," she explains, "are the three stages: grammar, logic, and rhetoric. High school is the rhetoric stage, where you're learning not only to have good ideas, but to be able to articulate them well." While a junior year thesis offers a dress rehearsal for that, it's the senior thesis, Kim says, that is "the capstone of your education."
She credits rhetoric with teaching her to "think differently." Something about the whole process of coming to articulate a certain idea well—both as a writer and an orator—forces one to wrestle and really understand that idea's nuances."
But Kim says rhetoric didn't just teach her to think better—it inspired her to think more.
"Rhetoric has affected my understanding of life and the world around me," she says. "I am far more mindful of the truth, goodness, and beauty." For her, "ideas are more than just statements written on paper, or spoken … they truly make up the substance of our lives. They drive people, they explain events, they give meaning and purpose to all that we do."
So what drove Kim to immerse her senior year in the whys of the world's search for happiness?
The theme she kept coming back to was the role of suffering in a Christian's life. And that, curiously enough, led her to think about happiness.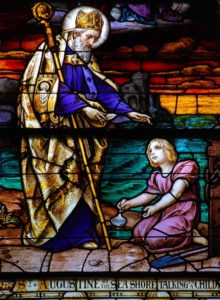 In her award-winning speech, "Finding True Happiness in Gospel Freedom," Kim describes the belief (based on the writings of Augustine and others) that many of us torpedo our own happiness—even as we obsess over it—by fixating on ourselves: our needs, our wants, our success. That fixation isolates us from those around us and often spurns the necessary disciplines that make freedom possible.
Both of these courses nullify our own true nature, as created by God ("in His own image"), Kim says—and so separate us from the only One who can provide the happiness we crave. We push away those with whom we could share our happiness … undermine our own freedom … and try to replace God's plans with our own. All of those contribute, Kim says, to the profound unhappiness that so characterizes our volatile age.
BUT WHILE ALL THOSE IDEAS intrigued Kim, the idea of sharing them aloud did not.
"I was terrified of any public speaking," she says. The presentations of her junior thesis gave her practice, though, as did involvement in her school's "mock trial" program (allowing students to prepare for and act out legal trials). The Lord used both, Kim says, "to prepare me and let me find my voice."
The one thing that is never taught by
any chance in the atmosphere of public
schools is exactly that—that there is
a whole truth of things, and that in
knowing it and speaking it we are happy.
—G.K. Chesterton, All Things Considered
To Kim's astonishment, she won both the school and the national competitions—and soon found herself in an Atlanta auditorium, presenting her thesis to more than 1,000 faculty, principals, and fellow students at that year's ACCS conference.
"Oh, man, it was really scary," she says, remembering looking at the huge crowd and thinking, "Charity, you just have to get to the podium and start speaking." Once she did, and "got into the swing of it, it got pretty exciting." She finished to a standing ovation … but it wasn't just her audience that was affected by the speech.
"The ideas that I worked with did impact me," Kim says. "I tend to be someone who can kind of close myself off … sit in my own self-pity." The themes of her thesis are a constant self-reminder, she says, that "you're called to a life of freedom. You don't have to live in this bondage to yourself, immobilized by your fears and anxieties.
"You can reach out to other people. Your happy life won't be in your room, or at home, or in comfort. It will be when you actively begin to love the Lord, love the people right next to you, do your best at the task right in front of you."
So … is Charity Kim happy?
"Far from 'perfectly' happy," she admits. But because of what God showed her through the rhetorical process of creating her thesis, "I can say that my life, looking back, has a lot more light in it. And I put more effort now into loving people, and because of that … I'm happier than I was before. Yeah, I'm definitely a lot happier.
"Not the happiest," she smiles. "But happier."
---
CHRIS POTTS is a writer living in Glendale, AZ.